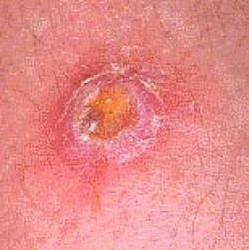 Many people think of 'moisturizing' as only something females do
Los Angeles, CA (PRWEB) October 23, 2008
Athletic Body Care is a new skin care line -- the only non-alcohol based virus-killing-while-moisturizing skin products designed specifically for athletes.
The arrival to market is timely -- amidst reports of Cleveland Browns tight-end Kellen Winslow being hospitalized with the deadly MRSA staph infection and NBA-bound college basketball star Kenny George losing his foot and career to it.
With multiple reports of staph spreading through schools and locker rooms across America, a common athlete's workout problem arises: how to protect your body from this antibiotic-resistant staph infection without drying the skin? Dry skin attracts and traps the disease-carrying germs.
Athletic Body Care solves this dilemma, being uniquely formulated to moisturize the skin while killing staph and 99.99% of all harmful germs. The patented formula includes wound healing agent Allantoin, germ-killing ingredient Benzalkonium Chloride (BAC), and various mixtures of shea butter, jojoba, antioxidants and vitamins. Click here to read about the science behind Athletic Body Care.
Athletic Body Care is anti-microbial, doing what mere anti-bacterial products cannot -- killing viruses like MRSA, staph, ringworm, impetigo, hepatitis and fungi such as athlete's foot and jock itch. The products are non-greasy, and do not interfering with the skins' performance or need to perspire.
The line is a complete body care system for athletes -- Foaming Skin Sanitizer for before the workout. Clean Power Wash and Therapeutic Muscle Soak for after the workout. Daily Defense Lotion for throughout the day.
Athletic Body Care is endorsed by numerous combat sports luminaries including Alan Teo, martial arts consultant to the NY Giants and NY Jets. It is the official body care product of USA Grappling, Warrior International Training Center of Las Vegas, and Big John McCarthy's Ultimate Training Academy and California USA Wrestling.
Athletic Body Care was created by Adam Page, a Los Angeles martial arts school owner and father of two, who set out to solve the growing problem of MRSA and other dangerous germs spreading through combat sports, locker rooms and schools.
"Many people think of 'moisturizing' as only something females do," comments Page. "But protecting your skin is a serious form of self-defense. It's very much a unisex thing to do."
# # #