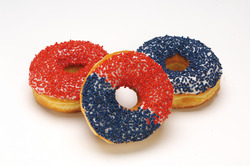 State College, PA (PRWEB) October 23, 2008
Forget red states and blue states. In this college town of 43,000 students, it's red donuts (John McCain) vs. blue donuts (Barack Obama).
Students at Penn State University and residents of State College, Pa., can satisfy their political appetites by purchasing a colored sprinkled donut representing their favorite presidential candidate. It is part of a "mock election" organized by the Dunkin Donuts franchise in Central Pennsylvania.
The "mock election" event, called Eat Your Vote, kicks off on Friday, October 24th. Polls close at midnight, Sunday, November 2nd. Voting results will be posted every day in Dunkin Donuts, located along popular College Ave. in the heart of downtown State College. The final results will be announced Monday, November 3rd -- the day before the 2008 presidential election -- and could be a good indicator on who may be the next president of the United States.
The voting process is simple. The purchase of a red sprinkled donut shows support for Republican McCain and a blue sprinkle donut demonstrates allegiance to Democrat Obama. If customers are undecided about their choice for president, they may purchase a combination red and blue sprinkled donut. "Voters" may select a donut that is either vanilla or chocolate iced.
The Penn State Student Democrats and the Penn State Student Republicans are involved in the 10-day election event. Both groups have vowed to "go donut to donut" in helping their candidate come out on top.
Leaders in both parties have labeled Pennsylvania as a battleground state and, with State College as the proverbial donut hole of the race, Dunkin Donuts in State College wanted to add a fun spin to this year's presidential election by organizing the "Eat Your Vote" election.
Voting never tasted so good.
# # #