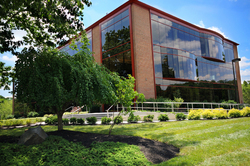 DuPont innovations are transforming global markets faster than ever before in our 206-year history
Wilmington, DE (Vocus) October 23, 2008 -–
DuPont and Delaware government leaders today unveiled their $80 million Innovation Center partnership, the latest program in strengthening market-driven science and technology capabilities in Delaware. The partnership includes opening of the DuPont Innovation Center business incubator at the company's global research and development facility here, donating 250 DuPont patents to the Delaware Economic Development Office (DEDO), and delivering 24 biotechnology seminars for Delaware high school teachers and students.
The DuPont Innovation Center partnership has helped science and technology to grow in Delaware. Since its inception, the partnership has resulted in the training and education of more than 800 teachers and students in new developments in the field of biotechnology. Two of the patents donated to the DEDO Intellectual Property Business Creation Program have been used to create Streamline Industries, a new Delaware company that will produce eco-friendly automotive coatings and finishes. DuPont has added 250 employees at the Experimental Station, the company's largest global research and development center, since the partnership was created in 2005.
"DuPont innovations are transforming global markets faster than ever before in our 206-year history," said DuPont Chairman and CEO Charles O. Holliday, Jr. "We are thankful to have a partner like the state of Delaware, which values the power of innovation in developing its future economic and educational successes."
"Our state is fortunate to partner with an internationally renowned company like DuPont to bring more jobs to Delaware and help prepare our high school students for careers in the growing field of biotechnology," said Gov. Ruth Ann Minner. "Investments in education and business help strengthen our economy, which benefits all the people of Delaware."
"As we face so many great challenges in our business and financial sectors, there is no better time for a global leader like DuPont to serve as a catalyst for the creation of innovative new technologies and entrepreneurial ventures," said U.S. Senator Tom Carper (D-Del.). "I have always said that it is part of the job of government to create a nurturing environment for business. In that respect, Delaware has a world-class business leader serving as its mentor and partner in our efforts to create the technology-based jobs we need to protect our children's future economic prosperity."
A critical component of the partnership was the construction of the DuPont Innovation Center, a new business incubator building which co-locates Applied BioSciences business people next to the scientists creating the company's new pipeline of renewably sourced products, including biomaterials and biofuels. A $6 million grant was provided by the state and matched by a commitment from DuPont to invest $80 million in capital projects at the Experimental Station by 2010.
The Innovation Center includes state-of-the-art features for energy efficiency and environmental stewardship and will apply for Leadership in Energy and Environmental Design (LEED) certification next year. Design elements incorporated in the building include more than 30 DuPont materials such as DuPont™ Tyvek® CommercialWrap® and Mohawk SmartStrand® with DuPont™ Sorona® renewably sourced polymer carpeting. Tyvek® Weatherization Systems can reduce energy costs by up to 20 percent annually. SmartStrand® carpeting saves the energy equivalent of one gallon of gasoline on average for every seven square yards of carpet used because it is made with renewable materials. In addition, lighting in the Innovation Center is provided by a 37.8 kilowatt solar panel array located on the roof that includes DuPont photovoltaic materials. A full list of materials is attached below.
DuPont has collaborated with the Delaware Department of Education to conduct 24 biotechnology seminars for high school students, providing six programs per year, beginning in 2006 at the Experimental Station or at appropriate sites throughout Delaware. As part of today's event, nearly 20 Delaware high school teachers attended a workshop in the Innovation Center on microbiology evolution conducted by DuPont scientists and Department of Education personnel while nearly 120 high school students and teachers from public and charter schools across Delaware attended a biotechnology career path seminar.
DuPont is a science-based products and services company. Founded in 1802, DuPont puts science to work by creating sustainable solutions essential to a better, safer, healthier life for people everywhere. Operating in more than 70 countries, DuPont offers a wide range of innovative products and services for markets including agriculture and food; building and construction; communications; and transportation.
The DuPont Oval Logo, DuPont™, The miracles of science™, Tyvek®, CommercialWrap® and Sorona® are registered trademarks or trademarks of DuPont or its affiliates.
SmartStrand® is a registered trademark of Mohawk Industries.
Resources Available:
Brochure: Open new doors to Innovation
Fact Sheet: DuPont Biotechnology Program for Delaware Students and Teachers
Fact Sheet: DuPont Photovoltaic Solutions
Fact Sheet: DuPont Applied BioSciences Technology Platform
###