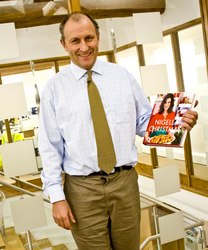 We are affectionately known to Nigella as her Lincolnshire Elves
Gainsborough, Lincs (PRWEB) October 24, 2008
Nigella Lawson's new publication 'Nigella Christmas' features Lincolnshire based ChristmastimeUK as the main supplier of 'All Things Christmassy.' The Christmas book is a glittering, gorgeous festive treat, illustrated with over 150 fabulous colour photographs by Lis Parsons.
Director, Alfred Rose says "We have worked with Nigella for many years and have actively encouraged her to incorporate more Christmas decorations in her book, she has always been a keen Christmas enthusiast and has an amazing style, as you will see from her book."
"We are affectionately known to Nigella as her Lincolnshire Elves".
ChristmastimeUK is the largest online Christmas store in the UK and has an immense and exquisite range of high quality, stylish Christmas lights and decorations. They have worked with many celebrity chefs and TV shows over the years and their client base now stretches from local households to worldwide government departments.
Like the fashion industry Christmas decorations can change each season and this year is no exception, this Yuletide we'll see handmade porcelain decorations by Marion Paredes, a new range of tinsel from Italy and a selection of fire-retardant paper decorations from Austria. Christmas 2008 will also see the return of some old favourites by way of tree toppers and seventies decorations including the traditional concertina paper bells.
Nigella Christmas not only features ChristmastimeUK and a selection of their products it comprises reliable, practical, easy-to-follow recipes and advice about planning ahead. The ultimate gift to you and for family and friends.
If you are looking for glitz and glamour, confetti and glitter or just a simple selection of tableware, crackers or fairy lights for your festive celebrations you need look no further than christmastimeuk.com, your very own Lincolnshire Elves.
For further information visit http://www.christmastimeuk.com or telephone 01427 667270
###