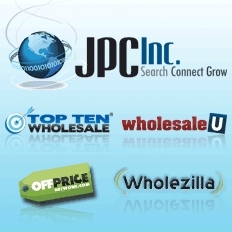 Sourcing merchandise has historically been one of the more challenging obstacles facing wholesalers, importers and merchandise resellers. Our partnership will help millions of businesses worldwide by bringing them many new opportunities
San Diego, CA (PRWEB) October 26, 2008
TopTenWholesale ®, the information superhighway for wholesale suppliers and distributors, announced today a strategic partnership with Manufacturer.com, an e-commerce company that provides business information search services for the international trade.
Both organizations will utilize their resources collectively to form a truly unique global marketplace that connects the wholesale entire supply chain.
"This marks a significant movement for the industry towards an efficient, transparent, global commerce," said Jian Deng, Founder and CEO of Manufacturer.com. "Sourcing merchandise has historically been one of the more challenging obstacles facing wholesalers, importers and merchandise resellers. Our partnership will help millions of businesses worldwide by bringing them many new opportunities"
Los Angeles-based Manufacturer.com's mission is to improve the efficiency of business information collection with the fastest and the most accurate search tools. The company carries out the functions of large-scale search, providing detailed information in an e-commerce format. Manufacturer.com obtains data automatically through thousands of professional trade Web sites. Visitors come from all four corners of the world, including the United States, China, South Korea, Canada, the United Kingdom, India, Japan, Australia, Singapore, Malaysia, Italy, Switzerland and Pakistan.
"Effective marketing in today's Web 2.0 world means organizations should engage customers around the world as easy as in their own backyard," said Jason Prescott, CEO of TopTenWholesale. "This partnership enhances our ability to do just that. By integrating Manufacturer.com's sourcing capabilities with our detailed content, interactive platforms and proprietary search capabilities, we provide our customers with a one-stop-shop platform for products and industry information to the wholesale market."
About TopTenWholesale®
TopTenWholesale.com is an Internet property of JP Communications, publisher of other vertical search engine and directories, including Wholezilla.com, OffPriceNetwork.com and WholesaleU.com. The company's mission is to be the information superhighway for the general merchandise industry and facilitate sales of wholesale products such as apparel, jewelry and novelties with independent retailers, closeout distributors and online auction dealers.
TopTenWholesale is a registered trademark of JP Communications, Inc. All rights reserved.
© 2008 by JP Communications, Inc. All rights reserved.
###