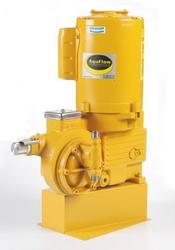 Irvine, CA (PRWEB) October 24, 2008
Precision Flow Technologies Inc. announces the launch of Hydroflo metering pump line it acquired last year, as Aquflow. They manufacture these pumps in a state of the art facility located in Irvine, California. Aquflow moved the inventory and tooling from Hydroflo's previous manufacturing facility in Plumsteadville, PA to their Irvine location. While the brand name has changed to Aquflow, the original design has remained the same for all Series 1000, 2000, 3000 and 4000 Cheminjector-D pumps.
This coincides with the launch of Aquflow's new website http://www.aquflow.com. Their website features a promotional drive to register all the existing Hydroflo pumps in the field. Each entry with a valid registration will be eligible for a drawing for useful electronic gadgets such as IPod, PSP etc. The details for this pump registration drive are available on the website. It also has useful resources to select, specify and use these metering pumps.
Aquflow makes chemical metering pumps in a variety of corrosion resistant materials such as 316 Stainless Steel, Alloy 20, Hastelloy C, PVC, PVDF, PTFE etc. The flow rates range from 0-1750 GPH (gallons per hour) with simplex and 0-3500 GPH with duplex configuration and the pressure generated could be over 4000 psi. These pumps are available with manual as well as electronic capacity control which can be adjusted while the pump is running. Aquflow also integrates these metering pumps into complete pump systems including tanks, valves, pipings and fittings. Aquflow metering pumps are used in water and wastewater treatment, agriculture, chemical processing, oil & gas and other industrial / commercial applications.
###