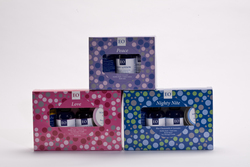 Corte Madera, California (PRWEB) October 25, 2008
What better gift to give than the gift of therapeutic relaxation this holiday season. EO® has a new selection of gift boxes that will show you care with products that are made from pure essential oils and natural botanicals. All of the products are free of artificial colorants, parabens, sodium laureth and lauryl sulfate, and synthetic ingredients. Our gift boxes include convenient travel sizes of our popular offerings. These gift boxes merchandise easily and have a price point that will please even the most discerning recipient.
The EO® Love gift box will pamper yourself or the one you love with the indulgent sensation of Pure Nourishing Rose. We captured the essence of real Rose by artfully blending hundreds of individual roses with healing Chamomile into this gift collection. The therapeutic benefits of these ingredients penetrate skin to nourish and hydrate the body naturally. Precious rose essential oils repair and harmonize even the most sensitive skin. This box includes Bubble Bath, Room Spray, Bath Salts, and a Soy Massage Candle.
Our EO® Peace gift box indulges your senses with the tranquil and calming sensation of pure healing French Lavender. The therapeutic benefits of our French Lavender penetrate the skin to nourish and hydrate the body naturally. The fresh and fragrant aroma of lavender relaxes with a sense of calm and balance providing internal peace and serenity. This box includes Bubble Bath, Bath Salts, and Body Lotion.
With our EO® Nighty Nite gift box you can relax and inhale the beneficial properties of Blue Chamomile and Lavender essential oils as you let go of your troubles. The apple like aroma of Blue Chamomile is a soothing antiseptic that nurtures all skin types helping to reverse dryness and eczema. Lavender tones and balances, naturally renewing skin health with its therapeutic properties. These two healing botanicals will nurture and protect your skin on a daily basis as you breathe deeply and drift off to a dream filled slumber.
For additional information on this release or EO® Products contact Dolores Gilchrist or visit http://www.eoproducts.com.
EO® is a leading manufacturer of natural and organic products that are great for you and the earth. We are a small, family owned and operated business and a Certified Organic Manufacturer of personal care products using the highest grade natural and certified organic ingredients located in Marin County, California. We create products that are natural, gentle, effective and free from animal testing.
Contact:
Dolores Gilchrist, Marketing Assistant
EO® Products
415-945-1900
http://www.eoproducts.com
###