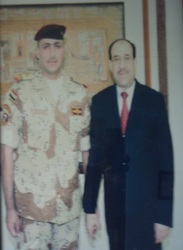 We hope the Americans continued support does not disappear but if it does we will not disappear to defend our nation and if it may cost our lives that is our sacrifice and honor for our country to protect our families
New York City, NY (PRWEB) October 27, 2008
Tommy Nero Sullivan recently interviewed key figures pertaining to the war in Iraq and below are answers on whether the U.S. can win in Iraq.
"No, we single handedly cannot win in Iraq and that is a fact, but the Iraqi government can win with our government's continued economic and military support of the Iraqi government," said James Van Thach, a Captain in the United States Army and Honorary Staff Brigadier General in the Iraqi Army. He further stated, "This will ensure that the Iraqi government's ability to protecting all religious rights, political rights, human rights, and continuing in increasing and maintaining their professional security forces. Their security forces are receiving training that will instill not only military and police training but adherence in building bridges of understanding with civilians, which would instill confidence in the Iraqi Security Forces (ISF)."
"A familiar term has come to mind, Rome was not built in a day. If we just conduct our own research by reading some historical books on Iraq or the history of civilizations then we will have a better understanding of the complexity of the war in Iraq," said LTC. John W. Peterkin.
"When we do not stand with our ally that is not strong enough to provide security to their people of their nation and foresee that disaster will soon encompass the nation. We must assist them in securing their future and the children of their nation to live under a democratic society. We must review our past and remember our allies for example Cambodia, Laos and South Vietnam that requested our help weeks before the collapse of their governments from insurgents that disrupted the daily lives of their people. This is a warning to all fellow Americans do not let history repeat itself, stand by our allies and remember Cambodia, South Vietnam and Laos, did not fall in a day," said LTC. John W. Peterkin.
Such Iraqi men that have risen to the challenge and are role-models to their countrymen are Staff Brigadier General Nassir al-Hiti, Staff Major Mohammed and Major Ihsan.
"Whatever the outcome of the United States elections, I call on the American politicians not to betray the Iraqis that believe in them such as their ally Cambodian Prince Sisowath Sirik Matak stated in a letter to American ambassador John Gunther Dean, in response to Dean's offer to evacuate Matak after the U.S. Democrat-controlled Congress deliberately pulled the rug out from under democracy in Southeast Asia in 1975," said Staff Brigadier General Nassir al-Hiti.
The letter reads: "Dear Excellency and Friend: I thank you very sincerely for your letter and for your offer to transport me towards freedom. I cannot, alas, leave in such a cowardly fashion. As for you, and in particular for your great country, I never believed for a moment that you would have this sentiment of abandoning a people which has chosen liberty. You have refused us your protection, and we can do nothing about it. You leave, and my wish is that you and your country will find happiness under this sky. But, mark it well, that if I shall die here on the spot and in my country that I love, it is no matter, because we all are born and must die. I have only committed this mistake of believing in you, the Americans. Please accept, Excellency and dear friend, my faithful and friendly sentiments. Sirik Matak (On April 21, 1975, Prince Sisowath Sirik Matak was executed by the Khmer Rouge.)"
"Prime Minister Nuri Kamal al-Maliki of Iraq and President Bush of the United States believes in a government that is represented by the people that connects our two countries together in friendship. We must assist each other when a fellow democratic government is under the threat of foreign and domestic terrorists," said by Staff Major Mohammed.
"We hope the Americans continued support does not disappear but if it does we will not disappear to defend our nation and if it may cost our lives that is our sacrifice and honor for our country to protect our families," said Major Ihsan.
###