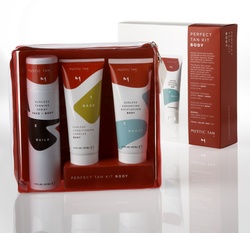 Barneys New York is a brand that stands for prestige and quality. We are very excited about continuing to align the Mystic Tan brand with those that are like-minded
Dallas, TX (PRWEB) October 25, 2008
Mystic Tan, the best-known brand in sunless tanning, today announced that its exclusive self-tanning line can now be found at Barneys New York.
The highly sought-after Mystic Tan Perfect Tan Kit self-tanning system launched in early 2008 and has since become a skincare must-have. Barneys New York is the second prestige retailer to join the Mystic Tan team.
"Barneys New York is a brand that stands for prestige and quality. We are very excited about continuing to align the Mystic Tan brand with those that are like-minded," said Ricky Croft, vice president of retail.
"We've brought together nearly a decade of research and development in creating the perfect tan application and put it into this take-home product. Now, customers can get the same impeccable color and natural-looking results they've come to expect from Mystic Tan with a self-apply system. I created the system to help eliminate errors typically associated with applying self tanner, so people are going to be very pleased with the results. The response to the product line thus far has been astounding," said Croft.
The product line consists of five unique products divided into three categories - base, build and boost, each with a specific formula for face or body.
BASE
Getting the perfect sunless tan doesn't just happen. A flawless tan should always begin with skin preparation, so Mystic Tan developed patented products that prepare the skin for optimal tanning results. Sunless Conditioning Complex FACE and Sunless Conditioning Complex BODY prepare skin for natural-looking results by supplementing the top layers of the skin with a unique blend of amino acids and antioxidant botanicals, which adjusts the skin's pH and balances its moisture level. Mystic Tan's unique, patented complex also ensures desired results in as little as half the time.
Everyone fears the unnatural hue that can result from over-application of self-tanning products. The revolutionary Conditioning Complex contains Mystic Tan's patented NutraMist deep hydrating delivery system that ensures even color distribution and helps to guard against unnatural color associated with over-application. The result? Skin that is perfectly prepared to achieve the most natural-looking sunless tan.
BUILD
Known, loved and trusted worldwide as the innovator of sunless tanning, Mystic Tan continues to deliver the perfect sunless results, now found on the shelf at Sephora. Perfect for achieving the optimal color, the Sunless Tanning Spray FACE & BODY utilizes a patented delivery system to ensure deep, even application with continuous hydration. Formulated based on years of experience and millions of tans, all Mystic Tan products are designed with skin health in mind. Developed using naturally-derived tanning agents that are rich in antioxidant botanicals to help to fight free radicals before they can damage the skin, the formulation is alcohol-free, and leaves the skin feeling refreshed and healthy-looking.
This self-tanner takes the Mystic Tan technology out of the booth and puts it into your hand. With a green delivery system, Mystic Tan's bag-on-valve can technology provides superior results that are safe for the environment and use no flammable propellants. The spray can technology also allows users to spray the can at all angles, providing even, controlled coverage. Bag technology ensures that users get more of what they pay for - the bag system allows the entire product to be used as opposed to traditional aerosol systems that can leave product in the can. It also enhances the quality of the product because the system is airtight and designed to prevent oxidization.
How It Works
The bag-on-valve system consists of a spray valve attached to a bag inside the can. The product is placed inside the bag while pressurized air fills the space between bag and can. The product is dispensed by the surrounding air squeezing the bag, thus pushing the contents out of the can. This allows an even, continuous fine myst to be sprayed while the user presses on the valve. No stopping to shake the can is necessary.
BOOST
The Sunless Enhancing Moisturizer BODY is a DHA, vitamin-enriched daily skin nourishing moisturizer which boosts sunless tanning results and extends the life of the tan. The luxurious lotion can be used every day to extend your tan or to create a warm, sexy glow with color that can be controlled.
Mystic Tan Shimmer FACE adds a sophisticated glow to a tanned face. It is a vitamin-enriched bronzing shimmer cream that illuminates and enhances the sunless tan. It can be used all over for a little extra shimmer or as a cosmetic to highlight the cheeks, forehead, eyelids and décolletage. The luxurious moisturizing cream base contains a subtle blend of gold, silver and bronze pigments that leaves the skin with a radiant, luminescent finish.
The product line was designed to work as a system to create the best sunless tanning results. To make it easy, the products can be purchased as the Perfect Tan Kit.
The Perfect Tan Kit BODY consists of a 2.5-ounce Sunless Tanning Spray, 2.5-ounce Sunless Conditioning Complex BODY and 2.5-ounce Sunless Enhancing Moisturizer BODY. Retails for $54. The Perfect Tan Kit FACE consists of a 2.5-ounce Sunless Tanning Spray, 1.5-ounce Sunless Conditioning Complex FACE and 1.5-ounce Shimmer FACE. Retails for $54.
About Mystic Tan, Inc.
Mystic Tan(R) is the leader in UV-free tanning, providing more than 20 million sessions per year. Mystic Tan's collection of skincare and sunless tanning products are soon to be sold in retail outlets across the U.S. Mystic Tan products produce an even, natural-looking and long-lasting tan that promotes vibrant, moisturized and healthy-looking skin. Mystic Tan leverages its patented, premium ingredients with the latest technology to produce a premium tanning solution. For more information, visit Mystic Tan.
# # #