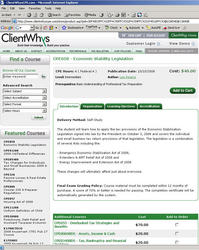 Malibu, CA (PRWEB) October 25, 2008
ClientWhys CPE has recently launched its latest tax CPE course covering the recent tax legislation. These tax law changes will affect just about everyone. The course is designed for Certified Public Accountants (CPAs), Enrolled Agents (EAs) and Tax Preparers but would be suitable for any financial service professional.
The student will learn how to apply the tax provisions of the Economic Stabilization Legislation, signed into law by the President on October 3, 2008, and covers the individual and small business tax return provisions of that legislation. The legislation is a combination of several Acts including the:

Emergency Economic Stabilization Act of 2008,
Extenders & AMT Relief Act of 2008 and
Energy Improvement and Extension Act of 2008.
ClientWhys offers online CPE courses through its http://www.clientwhyscpe.com website. The web-based format of our NASBA-compliant, tax CPE courses allows for easy access, instant grading and CPE certificates for compliance. The Economic Stabilization Course offers 4 hours of CPE and is available for $40.
About ClientWhys, Inc.
ClientWhys serves over 13,000 tax and accounting professionals nationwide. ClientWhys is geared to the hard new realities of ever-changing tax law, increased client demands and new competition from larger corporate financial service firms. Providing tax accountants with expertise and knowledge are elements of what we do. Their success is not just based on their professional designations. It is based on how they manage their practice, the services they offer, and the way they communicate and address issues facing their clients year-round.
For more information, contact ClientWhys at 1.800.442.2477 or visit us online at http://www.clientwhyscpe.com.
###