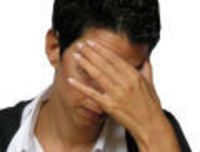 We're doing our small part during this economic down turn to help customers save money while providing them with some much needed headache relief for the holidays
Parsippany, NJ (PRWEB) October 24, 2008
Studies show people get more headaches between October and January due to the stress of the holiday season. This year, people are feeling more stress than ever thanks to the recent plunge in the economy. While normal holiday activities always prove to be stressful and tiring, the uncertain 2008 season is guaranteed to give consumers more headaches than past years. Most Americans plan to cut back on spending this season, thus increasing feelings of anxiety and depression which according to experts, leads to a variety of health problems including headaches.
"There's so much going on during the holidays, and every year the season starts earlier and earlier. This year people have less money to spend and the pressure is intense. We've already seen a huge spike in our Sinus Buster headache sales, and the holiday season has just begun", says Wayne Perry, Director of Innovation for SiCap, LLC, a company that specializes in natural headache and sinus remedies.
SiCap is best known for its Sinus Buster brand headache nasal spray made from Capsaicin, a natural ingredient derived from hot peppers. According to the company, Sinus Buster sales jumped after the government announced the big Wall Street Bailout, and orders continue to pour in as Christmas draws closer.
"We get all kinds of calls and emails from people claiming they never had this kind of stress and related headaches before, and they're desperate to get through the holidays feeling good. People seem to be scared, but they're also hopeful. It's nice to know Sinus Buster can help", says Perry.
The holidays are a busy time for most people with office parties, family gatherings and frenzied last minute preparations. Fortunately, weary holiday shoppers can take actions to limit the stressful triggers that cause headaches. Holiday headaches can be avoided by getting enough sleep, limiting social activities, and not overindulging in food or alcohol. Additionally, by shopping early in the season and seeking out coupons and sales, consumers can help preserve both their sanity and their wallets.
 
With this in mind, Sinus Buster is offering consumers some economic relief with special savings on their popular line of headache and sinus products. Throughout the holiday season, SiCap will offer free shipping when consumers buy three or more products on the Buster Brands website. The company calls it their "Recession Buster" program.
"We're doing our small part during this economic down turn to help customers save money while providing them with some much needed headache relief for the holidays", says Jeff Vernimb, Buster Brands Vice President of Marketing.
 
###