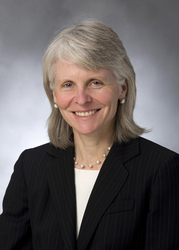 New York, NY (Vocus) October 24, 2008
Catherine Smith, CEO of U.S. Insurance for ING, was honored for her work and dedication to the nonprofit organization Outward Bound at an event in New York City held last night. Smith serves as the chair of the national organization's advisory board.
John Reid, president and CEO of Outward Bound USA, said, "Catherine epitomizes the three keystones of Outward Bound -- character development, leadership and service. She has worked tirelessly on behalf of students in wilderness areas and in Outward Bound centers. It is truly an honor to be recognizing Catherine Smith for all she has done for young people in her community and around the country."
Catherine Smith serves as CEO of ING's U.S. Insurance business, including the Life Insurance, Group Insurance (Employee Benefits) and Group Reinsurance businesses. These business lines serve the wealth-protection needs of more than 7.4 million Americans through individual and group policies. Smith also spearheads ING's Six Sigma initiative for the Americas' region. Smith holds a master's degree in public and private management from Yale School of Organization and Management, and a bachelor's degree from Hampshire College. In addition to Outward Bound USA, she serves as a director of the Connecticut Fund for the Environment and as an advisor to the Connecticut Trust for Public Land.
About Outward Bound
Outward Bound, founded in 1941 by educator Kurt Hahn, is a non-profit educational organization that serves people of all ages and backgrounds through active learning expeditions that inspire character development, leadership and service. It is Outward Bound's mission to help individuals and teams achieve their potential and develop the leadership skills needed to serve others and care for the world around them. Today Outward Bound serves 70,000 students and teachers annually.
About ING
ING is a global financial institution of Dutch origin banking, investments, life insurance and retirement services to over 85 million private, corporate and institutional clients in more than 50 countries. With a diverse workforce of over 130,000 people, ING comprises a broad spectrum of prominent companies that increasingly serve their clients under the ING brand.
In the U.S., the ING (NYSE: ING) family of companies offer a comprehensive array of financial services to retail and institutional clients, which includes life insurance, retirement plans, mutual funds, managed accounts, alternative investments, direct banking, institutional investment management, annuities, employee benefits, financial planning, and reinsurance. ING holds top-tier rankings in key U.S. markets and serves over 17 million customers across the nation. For more information, visit http://www.ing.com/US.
Press inquiries:
Philip Margolis
ING
(860) 580-2676
phil.margolis@us.ing.com
###