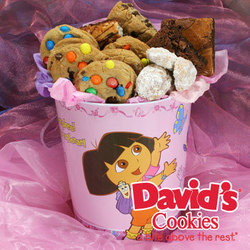 I wanted to create something fun that would appeal to moms and young consumers of our products that you might not find on Mrs. Fields or other competitor websites
Fairfield, NJ (PRWEB) October 26, 2008
To bump up sales in the economic downturn, David's Cookies is expanding their market to include more targeted product lines, including cookie gifts specifically for children. Previously, their only child-specific product was their Cookie Play Dough; multi-colored, edible cookie dough that can be formed into colorful shapes and designs, baked and eaten.
David's new product lines include several unique cookie tins to supplement their line of cookie & brownie gift baskets. These include reusable metal, printed tins in their new Gifts for Kids section of the website, licensed by Disney and other companies that create cartoons. Items include cookie & brownie bucket designs for Superman and Dora the Explorer, plus Disney features such as a Finding Nemo lunch box and a mini-locker decorated with princess images such as Cinderella and Sleeping Beauty.
"I wanted to create something fun that would appeal to moms and young consumers of our products that you might not find on Mrs. Fields or other competitor websites," said Product Design Specialist Rachel Murray.
Children's cookie tins may be purchased at DavidsCookies.com in their Gifts for Kids and Gift Baskets sections of the online store.
For additional information, contact Rachel Murray or visit DavidsCookies.com. Samples are available to the media upon request. Fresh baked products typically ship out Monday - Wednesday.
ABOUT DAVID'S COOKIES - In 1979 Chef David Liederman (b 1949, New York, New York) began to create cookies that became the basis for the David's Cookies line of desserts, baked goods, and cookie dough. Liederman's first cookie shop was located in Manhattan, New York, and by the 1980s David's Cookies grew to over 250 cookie shops worldwide. In the late 1980s, many stores closed and David's Cookies was purchased by Fairfield Gourmet Foods, a New Jersey-based cookie manufacturing company. The line was expanded to include tarts and cakes when Fairfield Gourmet acquired Bittersweet Pastries. Most products produced by David's Cookies are kosher dairy.
# # #