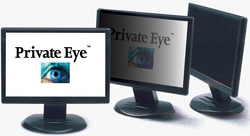 Medical administrators are worried about external privacy filter screens being removed creating HIPAA and JCAHO compliance issues. With Private Eye the privacy filter can not be removed
Landover, MD (PRWEB) October 28, 2008
Man & Machine, Inc. (http://www.man-machine.com) has teamed with 3M™ and Samsung™ to create Private Eye™, the LCD monitor specifically designed and engineered for use in medical settings, such as clinics and hospitals, and medical consulting firms. Private Eye helps facilities meet HIPAA and JCAHO compliance regulations by safeguarding confidential patient information from unauthorized viewers.
"For years we have been providing cleanable keyboards and mice to the medical field and now we turn our attention to another pressing medical computer issue, computer monitor privacy," said Clifton Broumand, CEO, Man & Machine, Inc. "Medical administrators are worried about external privacy filter screens being removed creating HIPAA and JCAHO compliance issues. With Private Eye the privacy filter can not be removed," said Broumand.
Filters are installed by Man & Machine, a Samsung authorized service center, and the monitor is ready to use out of the box. The user's view from the front is normal while the view is blocked for onlookers to the sides.
Specifications:

Available: 17", 19", 20" and 22" LCD monitor
Input Video signal: DVI, RGB Analog, Compliant Digital RGB
Vertical Viewing Angle: 30 degrees left and right
Warranty: Samsung 3-year limited warranty
Man & Machine, Inc. is an international provider of leading edge computer accessories focusing on medical, governmental, industrial and general office environments. Products include waterproof keyboards and mice, mobile keyboards for the RIM Blackberry, LCD privacy monitors for HIPAA compliance and financial security, and customized products to meet client's unique applications. The company was founded in 1982 outside of Washington, DC with satellite offices in New York, Tennessee, Florida, Netherlands and China. Man & Machine, Inc. adheres to a strict environmental code for the sustainability and protection of our environment. Please visit http://www.man-machine.com
###