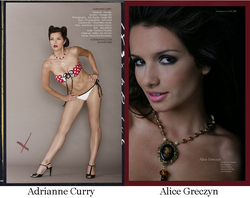 I could not imagine life without Angela. God knew where she belonged--in my heart
Los Angeles, CA (PRWEB) October 26, 2008
With the runways filled with vintage inspired designs, and the fashion world going "green," Vintage Glo is the perfect accessory. The beautifully designed one-of-a-kind jewelry works well with just about any fashion trend, ranging from casual to couture. What initially started out as a hobby, Gloria Bass, Vintage Glo's designer, took to a whole new level. She has turned that hobby into a viable and thriving business. Each piece in her unique collection is jeweled with 85 percent rare vintage items. Bass has always collected antiques that were used to decorate her home over and over again. One day, she and a friend began scrap-booking with vintage jewelry. Her friend later moved into incorporating vintage jewelry into bracelets and rosaries, and that's when Bass decided to shift her focus from collecting vintage pieces to designing them.
Gloria Bass started out rummaging through boxes at flea markets, garage sales, and thrift stores. She hand picks exclusive vintage items (often buying the entire chandelier for that perfect piece) to use in her 'vintage-funk' inspired rosaries, necklaces, bracelets, rings, chokers and accessories. The Vintage Glo collection stylishly includes everything from old keys, chains, charms, beads, antique ornaments, barrettes and rhinestones, to typewriter keys, mini locks, shoe clips, belt buckles, watch faces, clip-on earrings, and even telescope slides. Each piece is distinctive, romantic, and uniquely feminine.
Since its launch, Vintage Glo has been worn by many celebrities, including Adrianne Curry, Gloria Loring, Cathy Rigby, Anastasia Brown, Jodi Sweetin, and Alice Greczyn; and has accessorized fashion spreads featuring Nicolita, Jayson Brunsdon, April May, Lisa Michelle, and more. Vintage Glo has appeared in several local publications including Riviera Magazine, Coast Magazine, and Agenda Magazine (Vintage Glo is worn on the cover by Alice Greczyn and featured on spokes model Lindy Flowers in Agenda's fall 2008 issue). Bottom line, everybody who sees Vintage Glo, falls in love with the collection immediately.
But there's more to this jewelry designer than meets the eye--Gloria Bass comes with her own back story. October 13, 2008, during Los Angeles Fashion Week, Bass was one of the sponsors for Coco Johnsen's couture fashion show, which was held at the Audis Husar Fine Art Gallery in Beverly Hills. It was a multi-media event featuring "Stillness in Motion" to benefit the C.A.S.A foundation, a nonprofit that aids foster care. She donated thousand's of dollars worth of her one-of-a-kind hand-made vintage inspired jewelry to the celebrity gift bags, where she also introduced her new couture line. The C.A.S.A benefit supports a cause of which Gloria Bass has much experience.
"I personally came from an abusive background and I wanted to be there for a foster child. We fostered our daughter Angela for two years and adopted her a year later. I was honored to go see Coco Johnsen's gorgeous fashions and to support the great cause. After the runway show, Coco told me that her designs and Vintage Glo need to be married."
Today, Bass and her daughter work together to create Vintage Glo--Angela designs the price tags and gives her mom the thumbs up or thumbs down seal of approval. "I could not imagine life without Angela. God knew where she belonged--in my heart," said Gloria Bass.
As a collector of fine antiques, and having a passion for vintage accessories, Bass has found a way to combine the elegance and romance of the past with current trends of today through her designs. Her clients love the fact that no one else will be wearing what they own, as each piece is truly an original vintage inspiration of wearable art. Vintage Glo is the gift that continues to give back.
# # #