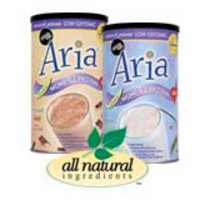 It is extremely gratifying to know our Aria Women's Protein and Aria Weight Control formulas have helped women naturally meet their daily needs for the last ten years
Carlsbad, CA (Vocus) October 28, 2008
DESIGNER WHEY®, America's #1 Selling Protein*, is celebrating the 10th Anniversary of its Aria® protein for women; the first protein to combine the benefits of non-genetically modified soy protein and a high quality whey protein concentrate. Research proven and all natural, Aria is formulated with folic acid, phosphorous, bone-building calcium, and a controlled glycemic response specifically for women.
All natural ~ Heart healthy ~ Low in fat ~ Low glycemic ~ 99% lactose free ~ Low calorie
To celebrate a decade of delivering amazing nutritional and healthy results to women the Company is launching a national consumer contest. DESIGNER WHEY is asking its consumers to explain how Aria Women's Protein and Aria Weight Control has benefited them in 500 words or less. Three winners will be chosen and notified on or before January 30, 2009, and given their choice of a one year supply (in 2009) of Aria Women's Protein or Aria Weight Control, and a 12 week blog on DesignerWhey.com.
Entries may be submitted through http://www.designerwhey.com/ beginning October 28, 2008 through December 31, 2008. All entries must have valid contact information to qualify, and photos are encouraged.
"It is extremely gratifying to know our Aria Women's Protein and Aria Weight Control formulas have helped women naturally meet their daily needs for the last ten years," explained David Jenkins, Founder and Chief Executive Officer of DESIGNER WHEY. "The national consumer contest is the best way we know to support our consumers who have stood by us for the last decade. The delicious vanilla and chocolate flavors of Aria are research proven and expertly blended for the active woman. We are the best selling and best tasting brand in our category*!"
Aria Women's Protein is a unique blend of whey accompanied by soy that provides a "harmony" of benefits. With the amazing body and health enhancing benefits of whey, together with the heart-smart benefits of soy, Aria can helps women to harmonize a healthy and fulfilling life with a beautiful, toned, figure, when combined with diet and exercise.
The following national and regional retail locations carry Aria Women's Protein formula: Trader Joes; Publix Super Markets, Inc.; Meijer, Inc.; Kroger; Fred Meyer; The Vitamin Shoppe; American Sales Company; Smith's King Sooper; Hannaford Bros. Co.; and Harmon Stores.
About whey protein & DESIGNER WHEY
The DESIGNER WHEY vision is to change the "WHEY" America feels about protein by providing consumers with great tasting, healthy whey-based products that improve their healthy lifestyles.**
Since 1993, NEXT Proteins has pioneered the manufacture of a full line of branded consumer whey-based products, including powders, bars and beverages. NEXT Proteins manufactures the industry's best selling protein, DESIGNER WHEY, which powers the company's innovative, great tasting products such as DESIGNER WHEY Protein 2GO™ and DESIGNER WHEY protein beverages.
Whey protein has been called the ultimate functional food. The revolutionary benefit of DESIGNER WHEY products is the utilization of Whey, a protein-rich liquid component of milk produced as a by-product of the cheese-making process.
Dedicated to research:
DESIGNER WHEY has spent more than $10.3 million on research to match the perfect blend of nutritional whey protein with great taste.
*Based on AC Nielsen sales monitoring for 52 weeks ending August 9, 2008, DESIGNER WHEY brand is #1 in Unit Sales for high protein powder in US-FOOD.
**The current recommended dietary guidelines and practices in the U.S. support the use of dietary protein at levels above 1.5 g/kg per day or .68g/lb body weight/day (A150 lb woman needs 102 grams of protein per day) during weight loss. - Layman, Donald K., Journal of the American College of Nutrition
###