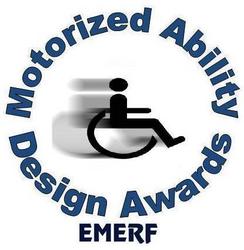 The electric motor industry is proud to be able to contribute to improving the quality of life. Everyday, people rely on motors to aid in their mobility, accessibility and therapy: from power wheelchairs to door operators and nebulizers
South Dartmouth, MA (PRWEB) October 27, 2008
To encourage college students to apply their creative energies toward improving the quality of life, the Electric Motor Education & Research Foundation (EMERF) has initiated the Motorized Ability Design Awards competition with a $5,000 first prize for the winning undergraduate team. Announcement of the inaugural design competition is coincidental with Medtrade, the largest international trade show dedicated to the home healthcare industry. EMERF, a nonprofit foundation established in 1995, will also assist qualified teams in procuring donations of electric motors for use in their projects.
"The electric motor industry is proud to be able to contribute to improving the quality of life. Everyday, people rely on motors to aid in their mobility, accessibility and therapy: from power wheelchairs to door operators and nebulizers," said John Morehead, an EMERF director and VP, Strategic Planning & Marketing for gearmotor manufacturer Bison Gear & Engineering. "We want to continue to stimulate innovative new mobility, accessibility and therapy developments and provide a means for undergraduates to exercise their engineering skills as well as their own interests in helping make life better for others."
Entries in the Motorized Ability Design Awards competition will be judged on innovation, utility, marketability, and presentation and the closing date for entries is June 30, 2009. Rules and competition timeline information are available at the EMERF web site. EMERF is also enlisting support from companies in the mobility, accessibility and physical therapy industry who wish to participate in the judging process or become cosponsors of the competition. To arrange a meeting during Medtrade with an EMERF board member, call 630-803-7785.
About EMERF -- The Electric Motor Education & Research Foundation
EMERF, a 501(c)(3) organization was founded by SMMA, The Motor & Motion Association, in 1995 to promote scholarship, education and research related to electric motors. Electric motors are an important component of economic activity as they are the primary device for converting electric energy into useful work by all Americans in their homes, automobiles, places of work and study. The Foundation's funds come from the general public, interested private and public institutions and other foundations. The funds of EMERF are directed in the public interest towards expanding the body of knowledge related to electric motors and their manufacture. EMERF draws its leadership from academia, industry, related trade associations such as SMMA, and the general public to help further its' mission.
# # #