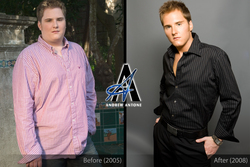 Santa Barbara, CA (PRWEB) October 27, 2008
After two and a half long and painfully difficult years of intense dieting, aspiring contemporary pop singer Andrew Antone has lost over 100lbs - the old fashioned way, without surgeries or shortcuts.
Tipping the scale at a whopping 268 pounds after the holiday season of 2005, it was time for a drastic change. After trying multiple diet programs with no results, Andrew faced the music, buckled down and got serious about getting his weight under control.
Just after his nineteenth birthday, Andrew recalls the life-altering realization that ignited his transformation. "I woke up one morning, got out of bed, and thought to myself 'what am I doing?' I cannot enter my twenties and be a size 42 (pants)." After more than ten years of being significantly overweight, Andrew was ready to leave those pounds behind him.
Armed with this unwavering emotional drive, Andrew immediately began making significant changes to his lifestyle. Eating, something once greatly enjoyed, became a mundane chore and working out at the gym, something that had previously never been taken seriously, became a daily routine. The results that nearly instantly followed were astounding. By the end of that summer, Andrew had already lost over 30 pounds.
"My new eating style took a lot of getting used to; however, I was still able to feel satisfied." Andrew's new eating plan consisted of completely cutting out all simple sugars and simple carbohydrates, and greatly increasing his fruit and vegetable intake. Rice, white bread and pasta became a distant memory, as did such favorites as lemonade, ice cream, regular sodas, and chocolate cake.
Two years after the diet began, Andrew was down nearly 90 pounds. To help achieve his final goal, Andrew worked with a personal trainer at one of Santa Barbara's premiere training facilities. Within weeks Andrew experienced a noticeably increased endurance, considerably higher muscle to fat ratio, and a more chiseled appearance.
Now, 104 pounds lighter and 10 pant sizes smaller, Andrew is within ounces of his goal. What seemed like a hopeless battle has now been conquered. When asked how he feels, Andrew replied, "I couldn't be happier, life is great - a whole lot easier and much more fun."
About Andrew Antone:
Andrew Antone first appeared on the music scene in early 2003 with the release, I CAN'T HELP FALLING IN LOVE (2003). After his national television debut on the late night talk show, Jimmy Kimmel Live, Andrew quickly left the music scene when his voice started changing. Coinciding with high school graduation, Andrew began refocusing on his music career, resulting in a brand new album, I WILL LOVE AGAIN (2006), featuring his powerful and sophisticated adult voice. Once again, time was not on Andrew's side as he was forced to make the difficult choice to step back from the music scene to concentrate on his education. As a full time University student, Andrew's schedule left him little time to record and promote his music. This time away from the industry has allowed Andrew to grow intellectually, physically and emotionally. In the summer of 2006, Andrew began writing very personal, intimate original material for what will be his next project. With college graduation just around the corner in the spring of 2009, Andrew is ready to dedicate all of his energy to his music and plans to return to the recording studio in the fall to work on his first all-original album. For more information, visit: http://www.andrewantone.com.
###