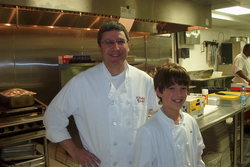 I like seeing the smiles on peoples' faces and the satisfaction I get when I make a good meal
Sandy Spring, MD (PRWEB) October 27, 2008
Willoughby's gourmet specialty food market and Chef Steve Rudman, a Le Cordon Bleu trained Chef and market co-owner along with Chef Cole Margol, his special guest apprentice, a 12-year-old Chef from Olney, Maryland, will teach a holiday children's cooking class on December 30, 2008, at Willoughby's Market located at 805 Olney Sandy Spring Road in Sandy Spring, MD at 11:30a.m. - 2:00 p.m. This hands on class will encourage eating nutritious foods by allowing kids to get creative with meal and snack preparation while learning the importance of safety and basic cooking skills. The Chefs will explain through fun hands-on activities where the food comes from, demonstrate how to prepare it, and help children become healthier and happier culinarians.
As a child, Chef Steve discovered his love of cooking while assisting his Grandmother to prepare family meals. This experience shaped his life and laid the foundation for his passion for cooking. Steve believes that the joy of cooking is a learned experience that is shared with family and friends and he takes every opportunity to share his passion for the culinary arts with his community and customers. He particularly likes sharing his love for cooking with children. At Willoughby's Market, co-owners, Steve and Terry Rudman strive to bring quality products such as premium meats, fresh seafood, prepared meals, marinades, and desserts to the community and offer exceptional customer services such as individual cooking and recipe instruction, bi-monthly cooking classes and product information that helps to bring families together at the table and in the kitchen as they share exciting culinary adventures.
Like Chef Steve, Chef Cole discovered his passion for the culinary arts as a young child when he took a kids cooking class at a local market at the age of 7. Before long, he was dreaming up meals in his parents' kitchen, watching every cooking show he could and reading every cookbook and culinary guide he could find. Now, at the ripe old age of 12 (almost 13), Cole studies menus and creates and cooks tasting menus for his parents and their friends. Cole finds great satisfaction in sharing his passion for cooking. "I like seeing the smiles on peoples' faces and the satisfaction I get when I make a good meal," says Cole. Chef Steve and young Chef Cole will team up to share their passion for cooking with the next generation of chefs and teach the Holiday Children's Cooking Class.
Also, assisting with the class and giving a back stage tour of the market will be 12-year-old Hannah Rudman, who works in the market alongside her Mother, assisting with public relations, purchasing and design, 15-year-old Michael Rudman, who works with all aspects of the market and is his Father Chef Steve's right hand assistant, and 8-year-old Jack Rudman who assists with front of the house customer relations. This class will give participants the opportunity to get a total inside look at the life of a Chef and learn basic skills, healthy food choices, and creative preparation techniques that they can share with their families. This class will be a wonderful journey of culinary delights and insights.
For more information, sign up for Willoughby's Market Newsletter and get the latest updates and special offerings on premium meat, fresh fish, prepared foods, and their broad selection of marinades, sauces, local and international cheese, beer, and wine, as well as, a selection of freshly baked breads and desserts. Willoughby's also offers catering for all your social and corporate events. Culinary Classes taught by Chef Steve Rudman on a wide variety of topics are offered bi-monthly. To sign up and to get more information on the great things happening at Willoughby's Market, please stop by the store located at 805 Olney Sandy Spring Road, Sandy Spring, Maryland, or call 301-570-FOOD (3663), or visit the website at http://www.willoughbysmarket.com.
###