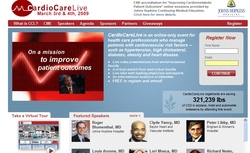 Dynamic cardiovascular risk assessment in the elderly: The role of amino terminal pro-B-type natriuretic peptide testing
Boston, MA (PRWEB) October 27, 2008
October 27, 2008-- Platform Q (http://www.platformq.com), is pleased to announce Roche, Noninvasive Medical Technologies, and OmegaBrite have joined in sponsoring CardioCareLive (http://www.cardiocarelive.com), the premier virtual event for healthcare professionals who manage patients with cardiometabolic risk factors. The two-day free online conference is scheduled to take place Tuesday March 3 and Wednesday March 4, 2009 between 9:00 am and 7:00 pm EST. CardioCareLive brings together healthcare practitioners, along with medical device and pharma leaders, in an innovative online format that fosters interaction and learning on the diagnosis of patients with cardiometabolic risk factors ( i.e. cardiovascular and kidney diseases, diabetes and obesity.)
Roche (http://www.roche.com) is a world leader in pharmaceuticals and diagnostics and is a platinum sponsor of the event. ""Roche is especially pleased to sponsor the CardioCareLive event because it offers an innovative way for cardiologists and other healthcare professionals to connect on an important topic that is of concern to many of us, the early detection and prevention of cardiovascular disease," said Michael Samoszuk, M.D., Chief Medical Officer at Roche Diagnostics. "The unique virtual environment allows for significant learning and peer-to-peer interaction without the financial and time commitments involved in traveling to a physical conference."
CardioCareLive brings thousands of cardiometabolic care professionals together efficiently and effectively, through the ease of an internet connection. The event features esteemed speakers such as Christopher DeFilippi, M.D. Associate Professor of Medicine, University of Maryland Medical Center, who will speak on "Dynamic cardiovascular risk assessment in the elderly: The role of amino terminal pro-B-type natriuretic peptide testing". The event features speaker tracks, a 3D exhibit hall, the opportunity for live chat among attendees and exhibitors, and the easy download of educational and reference materials. Cardiologists, endocrinologists, physicians, and diabetes educators should consider attending this free online-only event.
"Speakers such as Dr. DeFillippi enable time-pressed healthcare providers with a smart way to stay up-to-date on the latest clinical findings, technique and best practices," said Robert Rosenbloom, CEO of Platform Q, producer of CardioCareLive. In fact, CardioCareLive, in partnership with the Johns Hopkins University School of Medicine, features free Continuing Medical Education (CME) which provides accreditation for 10 AMA PRA Category 1 credits.*
Additional sponsors for CardioCareLive include Noninvasive Medical Technologies (http://www.nmtinc.org), a world leader in research and development of new and innovative uses for noninvasive hemodynamic monitoring, and OmegaBrite (http://www.omegabrite.com), a provider of pharmaceutical-quality, concentrated high EPA Omega-3 fatty acid supplement from fish oil, which has been shown to promote positive mood, cardiac and joint health, and overall well-being.
Additional CardioCareLive sponsorship and partnering opportunities are still available. Contact Shannon Forrester, VP of Business Development, CardioCareLive sforrester@cardiocarelive.com, (617) 938-6005.
About Roche
Headquartered in Basel, Switzerland, Roche is one of the world's leading research-focused healthcare groups in the fields of pharmaceuticals and diagnostics. As the world's biggest biotech company and an innovator of products and services for the early detection, prevention, diagnosis and treatment of diseases, the Group contributes on a broad range of fronts to improving people's health and quality of life. Roche is the world leader in in-vitro diagnostics and drugs for cancer and transplantation, and is a market leader in virology. It is also active in other major therapeutic areas such as autoimmune diseases, inflammatory and metabolic disorders and diseases of the central nervous system. In 2007, sales by the Pharmaceuticals Division totaled 36.8 billion Swiss francs, and the Diagnostics Division posted sales of 9.3 billion francs. Roche has R&D agreements and strategic alliances with numerous partners, including majority ownership interests in Genentech and Chugai, and invested more than 8 billion Swiss francs in R&D in 2007. Worldwide, the Group employs about 79,000 people. Additional information is available on the Internet at http://www.roche-diagnostics.us
.
About Noninvasive Medical Technologies
Noninvasive Medical Technologies, Inc. (nmtinc.org) is the only cardioplethsmograph manufacturer that incorporates their patented three-dimensional signal averaging into their technology. NMTs team of engineers, clinicians, and administrators are world leaders in the field of bioimpedance application. The company's commitment to advance the standard for noninvasive patient monitoring across the care continuum has resulted in creating noninvasive hemodynamic monitoring products for collecting essential assessment data in many situations where this information hasn't been readily available. When time, expense, logistics, and the reduction of patient stress from an invasive procedure are needed, NMT's range of products has been critical to gathering life-saving medical data.
About OmegaBrite
Omega Natural Science is the leading provider of Omega-3 and nutritional supplements based on the scientific evidence of efficacy of Omega-3 fatty acids for improving cardiac, emotional well-being, joint comfort and overall health. OmegaBrite was first formulated by Dr. Locke in 1998 while on the faculty at Harvard Medical School and brought to the public in 1999.
Omega Natural Science is located in Waltham, Massachusetts, we use the most advanced manufacturing processes, in FDA-approved, GMP compliant facilities, to provide the highest purity Omega-3 products on the market. Omega Natural Science is committed to helping its customers lead healthier lives.
About CardioCareLive
CardioCareLive is a unique virtual event designed to allow healthcare practitioners and others interested in understanding and managing cardiometabolic risk factors to connect and interact in ways that are impossible at physical events, through powerful Web-based software and services. The producer of CardioCareLive, PlatformQ, organizes online events to connect individuals and organizations with each other, and to virtually enable them to interact with leading experts, without incurring the travel, time, and dollar costs of physical events. http://www.cardiocarelive.com
CardioCareLive and PlatformQ are trademarks of PlatformQ, LLC.
All other trademarks or service marks used or mentioned in this release are property of their respective owners and are legally protected by law.
*ACCREDITATION STATEMENT
The Johns Hopkins University School of Medicine is accredited by the Accreditation Council for Continuing Medical Education to provide continuing medical education for physicians.
*CREDIT DESIGNATION STATEMENT
The Johns Hopkins University School of Medicine designates this educational activity for a maximum of 10 AMA PRA Category 1 Credit(s)™. Physicians should only claim credit commensurate with the extent of their participation in the activity.
##