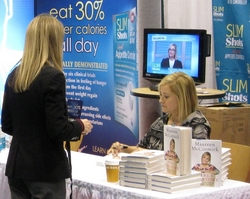 without jitters or any unpleasant side affects.
Chicago, IL (PRWEB) October 28, 2008
Maureen McCormick took a break from her national, "Here's The Story," book tour to join SLIM Shots for the opening day of the 2008 Food & Nutrition Conference & Expo in Chicago. The book, which climbed to #4 on the New York Times Best Seller list in two weeks, was autographed by McCormick and gifted to 200 Expo nutritionists and dieticians as they learned about her appetite suppressant product of choice, SLIM Shots.
McCormick, who won Celebrity Fit Club in 2006, had difficulty adhering to the Fit Club regimen. Today, the actress and author credits SLIM Shots with helping her control her appetite and maintain her weight "without jitters or any unpleasant side affects."
The opening day was a huge success as more than 500 dieticians and nutritionists stopped at the booth to learn how the new tool may be of assistance to their over weight clientele.
For more information on SLIM Shots, visit http://www.slimshots.com
###