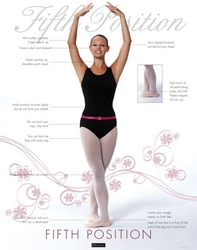 In this day and age when money is tight, every dance studio needs to make sure the experience they are providing is high-quality and worth every dollar the parents are investing
Brodhead, WI (Vocus) October 27, 2008
When the set designers for HBO's upcoming "East Bound and Down" series needed to create a ballet studio set they called Releve' dance posters. Set designers will utilize Releve's "Position it Perfect" set along with other Releve' dance posters to create a life-like television set of a dance studio for some scenes.
HBO's "East Bound and Down," is a comedy from Will Ferrell and Adam McKay. The show is about a former professional pitcher whose limited post-baseball career opportunities land him back in his hometown as a substitute gym teacher. Several scenes may incorporate a young child's dance studio which is where Releve's posters will make their TV debut.
DeAnne Boegli, Releve's owner is pleased with the attention. "We call our posters the Art of Instruction. It is rewarding to be recognized for our design integrity and quality by HBO set designers," she comments.
Releve' currently produces three distinct poster sets:

Position it Perfect -- creates an immediate visual for students learning the basic five positions of ballet in the classic French technique.
Are You Ready for Class? -- demonstrates the proper attire for class in ballet, tap and jazz, along with a write-on area for teachers to get specific on their clothing requests.
Studio Essentials -- provides nine quick and professional ways to talk with parents in the waiting room. Common messages such as Payments Now Due, Welcome Visitors, Register Now, and VIP (Very Important Parents) Waiting Area make it easy for teachers to talk with parents.
For a complete visual representation of the posters visit the website at http://www.instructdance.com or check out the blog Dance Teacher Talk Spot at http://instructdance.blogspot.com/ to join in the conversation.
Releve' posters help teachers maintain a high level of professionalism by creating a high-quality brand experience in their studio. "In this day and age when money is tight, every dance studio needs to make sure the experience they are providing is high-quality and worth every dollar the parents are investing," says Boegli.
If you get creative you can use the Position it Perfect posters as marketing tools. "We recommend using individual posters to display in local doctor offices, so parents and kids can talk about dance while they wait and try to do the positions following the instructions. Teachers have to be as creative in marketing as they are on the dance floor in a challenging economy."
Releve' LLC has been selling dance posters worldwide since 2006 to dance studios and schools. If you want to check out the products visit http://www.instructdance.com; you can purchase direct online, or order from one of the many distributors that carry Releve' dance posters including: DanceArtFX, The Barre Company, Vancouver Light and Sound and eNasco.
Releve' LLC is owned by DeAnne Boegli, dance teacher and studio owner in Brodhead Wis. http://www.brodheaddance.com She can be contacted for comments on this or other dance topics via her website http://www.instructdance.com, on her LinkedIn in account or by phone.
Contact:
DeAnne Boegli
608-225-2472
releve@instructdance.com
http://instructdance.blogspot.com/
###