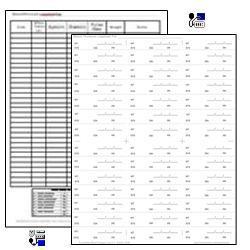 Home blood pressure monitoring also gives patients the physiologic feedback they need to see regarding blood pressure
Fullerton, CA (PRWEB) October 28, 2008
FutureWare responds to increased on-line searches for personal health management by adding new blood pressure monitoring logs. These do not require any high-tech gadgets, complicated computer programs, on-line security risks, training, or additional support from health providers. Individuals can use these free monitoring logs to take control of their blood pressure maintenance.
Heart disease remains the leading cause of death among Americans. High blood pressure is a major indicator of a potential heart problem. Individuals are taking more personal responsibility in maintaining their health, as doctors have less time to spend with their patients and employers are working to reduce health insurance costs and coverage.
The internet is making medical information more widely available to individuals who want to keep healthy. FutureWare noticed an increase in keyword searches on personal health items are for diagnostic and monitoring tools that will help them stay healthy.
Self-monitoring of blood pressure is a valuable addition to the management of high blood pressure, supported by the Joint National Committee on Prevention, Detection, Evaluation and Treatment of High Blood Pressure (JNC-7), the American Heart Association, the American Society of Hypertension, and the Mayo Clinic, among many other medical institutions and health providers.
Having health signs, such as blood pressure, checked once or twice a year at a doctor's office is giving way to patients self-monitoring their own health signs more frequently, often on a daily basis. "Home blood pressure monitoring also gives patients the physiologic feedback they need to see regarding blood pressure", says Nancy Houston Miller, R.N., co-author and former president of the Preventive Cardiovascular Nurses Association.
"We saw a large increase in our web site's keyword searches report for a simple and free blood pressure monitoring log," said Chuck Brooks, president and co-founder of FutureWare SCG. "We decided to take our mobile monitoring reports from our popular HypertensionTracker software product and make them available as free PDF files that can be downloaded from our website." They are also included in this press release.
FutureWare's downloadable blood pressure monitoring logs can be printed on standard 8.5 by 11 inch paper, to suit the preferences of individuals and health care providers. One blood pressure log has 31 entries for a monthly listing, similar in layout to an Excel spreadsheet. The other blood pressure log has entries for six weeks, and can be folded into a compact pocket size.
These blood pressure logs can also be used by doctors, visiting nurses, or any health provider, who can provide them to their patients at no cost and without any copyright restrictions. Doctors can also use them to document patient compliance.
About FutureWare:
Doing Windows, filling Pockets, and reading Palms, to make award-winning software that works, for Health, Home and Office. FutureWare provides both a line of personal information management products, and custom business system designs.
Contact:
Chuck Brooks, President
FutureWare SCG
714.809.5343
###