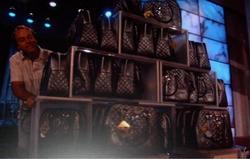 New York, NY (PRWEB) October 29, 2008
Special Performance and Apple Bottoms Handbag Giveaway.
Who: Multi-Platinum, American singer/songwriter, actor, & entrepreneur, Nelly, made a special appearance on the Ellen DeGeneres show.
When: Thursday, September 18, 2008.
Where: The Ellen DeGeneres show. Burbank, CA
What: Multi-platinum recording artist Nelly, accompanied by Ashanti and Akon, performed "Body on Me," a track off his newest album Brass Knuckles. He also sat down with Ellen to discuss the vast success of his women's fashion brand Apple Bottoms. Ellen, who has made proclamations of excitement regarding wearing her Apple Bottoms jeans, was enthusiastic to interview the visionary (behind the brand).
The entire audience was gifted with the same Apple Bottoms "Quilted Overnighter" that celebrities at the 2008 VMA's were given. The bag, which is a feature piece from the new fall Apple Bottoms handbag collection, is an over-sized quilted, top-handle tote, with intricate detailing, and a signature logo applique on center front. The bag comes in bronze, blue, or pewter, and is now available for purchase at Macy's and online at http://www.applebottoms.com/shop.php.
Also, Ellen had her audience members play a game, in which 2 of them were tied together with a bungee cord, and had to grab apples from either end of the stage... using only their mouths! Symbolic of the public's desire for "Apple" Bottoms? You decide.
Apple Bottoms, a fashion and lifestyle brand, is the result of a collaboration between multi-platinum artist Nelly, and ICER Brands, LLC.
ICER Brands, LLC is a privately held market leader, with an extensive track record of successful product development, marketing, and the persistent execution of fashion-forward styles.
The company's name "ICER", which is an acronym for Integrity, Customer, Excellence, & Respect, offers just that.
###