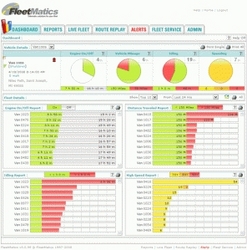 GPS tracking is one of the most powerful tools available to businesses with mobile assets
Boston, MA (Vocus) October 28, 2008
FleetMatics, a leading provider of GPS fleet tracking solutions, has launched a new blog to help business owners maximize the benefits of GPS technology for their vehicles. The blog can be viewed at http://vehicle-fleet-tracking.com/.
Called "The FleetMatics Tracker," the blog is written by Lawrence George Jaffe, an expert on how fleet owners can use GPS technology to reduce costs and increase productivity.
"GPS tracking is one of the most powerful tools available to businesses with mobile assets," said Jaffe. "My goal with this blog is to make sure that fleet owners and managers understand how to get the most use out of this technology."
GPS vehicle tracking works by placing a tracking device in each fleet vehicle. The device monitors vehicle speed, idle times, location, start up and shut down times and routes taken. This data can be accessed via online reports and used to encourage fuel efficient driving habits including slower speeds, reduced idle times and improved routing and dispatching.
But according to Jaffe, many businesses don't fully realize the wide range of benefits provided by GPS vehicle tracking. "The FleetMatics Tracker" will fill this knowledge gap.
"Reduced fuel costs, improved routing and increased security are only the tip of the iceberg," said Jaffe. "Businesses that use GPS for the first time quickly discover how important the technology is in streamlining and improving their entire operations in ways they never imagined."
About FleetMatics
FleetMatics is a rapidly growing venture-backed telematics company with offices in the USA, UK and Ireland. The company's fleet tracking software solution provides customers with real-time information about their mobile assets anytime/anywhere, 24/7. http://www.fleetmatics.com
Contact:
Jamie Sene, Global Marketing Director
(617) 365-1546
http://www.fleetmatics.com
# # #