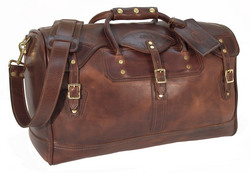 These bags will last generations and be passed down with legacies reconnecting families with fond memories and stories that grow as the years pass by
St. Paul, MN (PRWEB) October 29, 2008
J. W. Hulme Company is now offering a new way to connect families over the holidays. Families live near and far and keeping a close connection becomes more challenging every day. This year, J.W. Hulme's American Heritage products can be customized to help bridge the distances by establishing a lasting link for holidays to come.
J.W. Hulme will elegantly emboss in leather a family name or crest. The family badge can then be discreetly stitched on the inside of a bag or proudly placed on the outside of any American Heritage products.
In addition, these family bags will arrive already resembling a family heirloom because each is hand buffed and antiqued to recreate the natural wear patterns and luster of a 40 year old favorite. "These bags will last generations and be passed down with legacies reconnecting families with fond memories and stories that grow as the years pass by," said design director Jen Guarino.
Orders must be placed by November 7, 2008 for arrival before Christmas. A one time $190 customization fee transforms these bags from personal treasures into family treasures.
J. W. Hulme Company was founded in 1905 to make canvas tents. Seventy years later the first bag was inspired by an heirloom bag owned by the grand-father of the company's chief designer, Norton Cross. They began manufacturing a line of sporting bags sold under the Gokey and Orvis brands. In 1996 the company dedicated itself to preserving and broadening the luggage collection by designing, producing and branding the line under the J. W. Hulme Company name. Quality and service are as real today as they were in 1905 as J.W. Hulme Co. continues to craft its bags on the banks of the Mississippi River, employing the most skilled canvas and leather artisans.
Products are sold to devoted customers through retail stores, the J.W. Hulme's website and mail order catalogs. Each year has seen new innovations in design and materials while making a statement of traditional elegance.
###