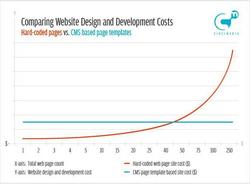 A website developed by CinciMedia costs the same whether it consists of 20 pages, 50 pages or 200 or more
Cincinnati, Ohio (PRWEB) October 29, 2008
CinciMedia, the global provider of interactive media design and development services to hundreds of clients, and developer of the popular JustPageIt Content Management System declares the days of paying by the page for website design and development and paying a webmaster for even simple content changes need to end.
Major web design and development companies such as HP Logoworks are inhibiting the true exploitation of the Internet as an information dissemination medium by tying the number of pages a client wants on its website directly to the cost of designing and developing that website. The simple rationale behind this pricing model is that these traditional website development companies have to program or hard-code each page; this antiquated approach can limit future website expansion, or cause such expansion to be costly.
Websites designed and built on a user friendly Content Management System (CMS) such as JustPageIt break the link between page count and website cost. "A website developed by CinciMedia costs the same whether it consists of 20 pages, 50 pages or 200 or more" said CinciMedia CEO, Karl Treier. This is because pages are not hard-coded; they are dynamically generated by merging a custom designed page template with client entered content stored in a database at runtime. Different page templates accommodate different types of content such as news, events, management biographies, products, solutions, clients, etc.
Hard coded websites also limit future expansion, or even the simplest content changes. The client must return to the original vendor or hire an expensive technical resource such as a Webmaster or HTML Programmer to develop additional pages, or change the content on existing pages. Content agility is lost and the end result is a website which quickly becomes stale.
Globally CinciMedia and other approved vendors have deployed thousands of JustPageIt enabled websites, because clients recognize the value of being able to easily change the navigation structure, add pages or edit page content at anytime without specialized technical knowledge. Clients often double, triple or quadruple site content at no additional cost within weeks after launching a JustPageIt integrated website designed and developed by CinciMedia.
About CinciMedia:
CinciMedia is a global Interactive Media agency, delivering services ranging from Website design and development, Web Application development, UX design, Flash Animation and Scripting, and JustPageIt Content Management System implementation to 3D Rendering and 3D Animation for Television and Film. CinciMedia has a talented team of staff located in Europe and Cincinnati, Ohio. CinciMedia has developed more than 1,000 website for clients which include; MTV Networks International, Cincinnati Ballet, Organon, Ogilvy, and JCDecaux.
###