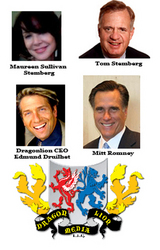 Her ability to transform any room into a timeless masterpiece has boosted her reputation as a visionary with inpeccable attention to detail
Warren, RI (PRWEB) October 29, 2008
DRAGON-LION MEDIA's Edmund Druilhet has just announced the production of "The Maureen Sullivan Stemberg Story: A Portrait In Courage", a true-life documentary film based on factual events from her childhood up to today. Maureen the first wife and inspiration for Staples which Tom Stemberg founded in 1985. Prior to 1985 he was out of work for almost three years. Tom Stemberg, served as CEO and drove the company through its growth from infancy to what is now a worldwide superstore based on the idea of a home-office. Maureen Sullivan Stemberg ran her own very successful interior design business from just such a home-office. She also designed Trump Penthouses at the Plaza. Over the past 20 years, Maureen Sullivan Stemberg has proven to be one of the most talented Interior designers in the industry. She has owned and operated successful design firms in both Boston and palm beach, taking on upscale clients with the most discriminating taste. "Her ability to transform any room into a timeless masterpiece has boosted her reputation as a visionary with inpeccable attention to detail" -Traditional Homes Magazine 1985.
In Sullivan Stemberg, own words: "I am so proud to say I was born in South Boston, came home to live with my siblings and parents in a two bedroom project. My family, valued cultural learning and discussed politics at the breakfast table. It was reading, writing and the knowledge of the world around me -- a greater knowledge than my own backyard was instilled in me from a very early age and I've learned to carry that torch with me wherever I have gone since then: shining my flashlight in hidden corners, highlighting those things that I feel require some attention on my part, be it the arts, child abuse and all the way to certain medical issues that are under-reported. I was taught to speak-up, and I do, and I am proud of my parents for teaching me this and proud of my own ability now to stand up for what I believe in. This is why I am humbled, grateful and pleased to have my story be told in this film documentary."
Maureen Sullivan Stemberg will provide an in-depth account in this first-time tell all tale of the interweaving relationships and strange bedfellow that business has made in her life. Such luminaries include former Governor of Massachusetts, Mitt Romney - who was the former Republican nominee in the 2008 Presidential campaign, as well as one of the first major investors for Staples while he was employed by Bain Capital, Boston, MA. This story will include the injustice of the Mass. Probate Justice system. Other heavy hitting names have yet to be released in this as of yet untold story including Dola Davis Hamilton Stemberg.
The documentary will feature Ms. Stemberg, interior designer and social advocate, whose design work has been featured in such places as House and Garden, House Beautiful, and The New York Times as well as Who's Who in Interior Design: One Hundred Top Designers (published by Rizzoli), among others. Notably, Ms. Sullivan Stemberg was selected by Who's Who Woman of Distinction for 2006, featured for her design work, and most notably for her charitable social endeavors, and most importantly to her, her work with abused children. Sullivan Stemberg is also recognized for her charitable work and advocacy for people with autoimmune diseases and conditions.
The documentary will also feature writer Sadi Ranson-Polizzotti who will be interviewing various people involved throughout her life, past and present. Anyone discussed in the documentary will be contacted for their response.
The documentary is to be sourced to Lifetime Television as well as broadcasting companies throughout the United States, Europe, and worldwide.
Sadi Ranson-Polizzotti has been named as the writer and editor of the documentary. Ranson-Polizzotti is a full-member of the national PEN America Foundation.
DRAGONLION MEDIA LLC
Raleigh Studios Manhattan Beach
1600 Rosecrans Ave. bld 7-4th floor
Manhattan Beach CA. 90266
Executive Producer
Edmund Druilhet
310.245.4217 cell
Office 310 321 7831
edmund @ dragonlionmedia.com
Sadi Ranson-Polizzotti
617.821.5452
###