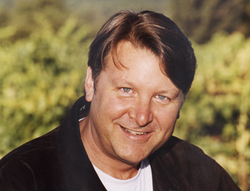 San Francisco (PRWEB) October 29, 2008
As Election Day draws near, DeLoach turns his vast wine wisdom - and biting wit - toward elaborate speculation on the candidates' likely wine preferences. From pineapple wine for Hawaii-born Obama to moose meat pairings for Palin, DeLoach spares none and entertains all in a riotously irreverent romp.
Best of all, every nutty notion in DeLoach's article is backed by sound wine principles and real-life recommendations. So you'll come away with a smile - and some great ideas for new wines to try. (Even if you're not serving moose.)
When it's not election season, DeLoach keeps Beyond Wonderful readers well informed with monthly articles on seasonal wine picks, hunting wine bargains, demystifying labels, choosing wine gifts and more. De Loach is one of a panel of Beyond Wonderful culinary pros that also includes experts on cheese, baking, mushrooms and produce.
About Michael DeLoach
Principal at Hook & Ladder Winery, Michael DeLoach has appeared throughout the country on radio, television and speaking engagements, and has been written about in national publications including Newsweek, The New York Times, The San Francisco Chronicle and The Wine Spectator.
About Barbara Adams Beyond Wonderful
Beyond Wonderful launched in September 2004 from the San Francisco Bay Area; an internationally renowned center for culinary innovation. The brainchild of Barbara Adams, Beyond Wonderful delivers all the flavor, vitality and spice of this magnificent region in an ongoing culinary adventure from farms to markets to vineyards and beyond - culminating, of course, in the kitchen. For more information, contact pr @ beyondwonderful.com. Visit Barbara's blog (http://www.barbaraadamsblog.com) for a peek behind the scenes.
# # #