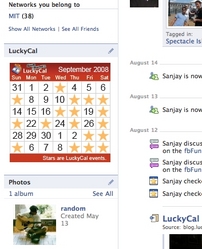 LuckyCal suggests what you can do while you're there
Lexington, MA (PRWEB) October 29, 2008
LuckyCal Inc. is pleased to announce that it was selected by the judges and the readership community of the Industry Standard as a winner in the Innovation 100 Awards.
The Industry Standard's selection committee chose ten strong competitors in each category in July. From August to October, readers and members of the Industry Standard were asked to vote on favorite applications. LuckyCal faced a stiff set of competition from the likes of Apple, Inc. (MobileMe), Yahoo! (Upcoming.org) and CondeNet (Epicurious.com).
LuckyCal uses Predictive Presence Technology to figure out where you're going to be, and helps you decide what to do while you are there. By examining your calendar and finding upcoming trips, LuckyCal find people, shows and events that are likely to interest you.
"LuckyCal suggests what you can do while you're there," says Sanjay Vakil, Ph.D., LuckyCal founder. "It anticipates the things you want to do - grab a drink with a college buddy, meet additional clients or coordinate a sales pitch with colleagues - and makes it easier to get them done."
A concise "Trip Display" maps all of your friends, contacts, and events; you can see where you're going to be and determine who else will be nearby during the same time period, making it easy to decide which days will be the most productive and fun to travel on. LuckyCal also allows you to buy tickets to events and book flights and hotels, all from within your calendar.
Most importantly, LuckyCal doesn't require you to use a new calendar or scheduling system as it supports major scheduling systems including Google Calendar, Facebook Events, and Micrsoft Outlook. This means that you don't have to re-enter or update any of your information.
"Facebook is a particularly exciting platform for us," continues Vakil. "It not only represents the social graph of over 100 million users, it is also becoming the primary repository of its users' interests. Merging that information with trips pulled from Google or Outlook has proven a phenomenally powerful. Building a polite, useful and powerful application for Facebook's users has been our priority."
Vakil received his Ph.D. in Aerospace Engineering from MIT and previously co-founded Newton-based PatientKeeper, a healthcare IT company. He is joined by a small team of experienced engineers, hand-picked from his previous startups.
###