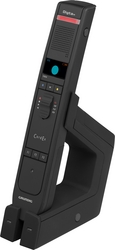 London, UK (PRWEB) October 29, 2008
BigHand, the market leading developer of digital dictation workflow systems for the legal community, has today announced integration and support for the first wireless USB speech recording microphone; the Digta CordEx. BigHand is the first vendor to offer total integration with the wireless dictation device, again demonstrating BigHand's commitment to offering clients the latest in technology developments. BigHand is also one of the first providers to support encryption of dictations via Grundig's professional remote device; the Digta 420.
Launched at BigHand's annual User Conference in September 08, the Digta CordEx has been developed in response to increasing demand from end users and firms who increasingly find they must cater for a variety of dictation styles and preferences. Dictation recorded via the CordEx is instantly streamed into the BigHand system, and is therefore ideally suited to users who have the need, or prefer to move around whilst recording. What's more, should a user walk out of range whilst recording, the intuitive CordEx records locally and synchronises with BigHand once the user is back in range. The cutting edge hardware technology from Grundig Business Systems ensures recordings are never lost.
Ian Laycock, UK Country Manager at Grundig Business Systems, comments: ''We're delighted that BigHand has moved to become one of the first major integrator partners to support the Digta CordEx. Following on from our presentation at their recent user conference we already have a number of user trials set up with an increasing number of clients interested. This is an exciting tie-up between two of the most innovative names in digital dictation and we're looking forward to working together to make the CordEx one of the most talked about products of 2009.''
For those firms wishing to trial the new wireless Digta CordEx device, BigHand is offering clients the opportunity to do so, free of charge, for a limited period. Please contact BigHand for further details.
About BigHand
BigHand is based out of Chicago, London, Sydney and Toronto. BigHand is the leading digital dictation vendor in the global professional services sector. BigHand3 was awarded 'Best of Breed System of the Year' at the Legal Technology Awards for 2008, and BigHand Mobile (BlackBerry Edition) was voted 'Mobile Product of the Year' at the CNET Business Technology Awards 2008. BigHand has also been nominated in the Sixth Annual Law Technology News (LTN) Awards for 2009 as 'Dictation System of the Year' and 'Mobile Tool of the Year'. Further information is available at http://www.bighand.com
###