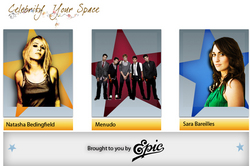 Chicago, IL (PRWEB) October 30, 2008
What began as a 13-year-old's solution to an online world of unsafe social networks and adult websites has expanded to include shopping for clothes from labels like Diesel and Ella Moss, interviews with Project Runway winners and other noteworthy individuals, and the recently added Celebrity Your Space which allows users to stay in touch with their favorite artists. The celebrity pages include music, videos, and lyrics for girls to sing along to, and members can follow the artists though direct updates and special interviews, releases, and performances. Girls who want to send a personal note to their favorite artist can even call and leave a message! Natasha Bedingfield, Menudo, Sara Bareilles, and Clique Girlz are the current featured artists on ShopLikeAnna.com.
Anna, the 13-year-old founder, wanted to create a secure place for girls to socialize and shop for clothes online. With help from her father, Anna created ShopLikeAnna.com to give kids eight to fifteen a risk-free online community. The site is full of entertaining features for users to enjoy, from "blabbing" with friends to reading the latest stories on style, celebrities, and entertainment. The fashion section gives budding fashionistas the opportunity to shop and browse the latest and trends by using prepaid Anna PointsTM. Adult family members and friends can add points to an account so tweens can shop online sans credit card!
To tour the site as a member, log in with username: media and password: mediapass
About http://shopsikesnna.com: The Shop Like Anna team is based in Chicago, Illinois.
###