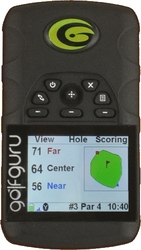 (PRWEB) October 30, 2008
As GPS Golf Guru continues to expand sales, the introduction of support for the Apple Macintosh is a natural step that has been requested by some of our users. The Guru Team is pleased to announce that Mac support is now provided transparently on all current and future version of both the Grayscale Guru and the Color Gurus.
The GPS Golf Guru family of products integrates advanced GPS technology with scoring and game tracking and now Guru functionality is available to Mac users as well. Using the Guru, players can determine the distance to the pin, traps, hazards and greens. The golfer can also track the distance they hit their clubs, track statistics and much more.
Darryl Cornish, Guru Co-founder commented, "Our users have been asking for Mac support, and going forward, all versions of the Guru will provide that support. The Guru is the only product in the market that regularly provides products updates and makes a real effort maintain compatibility with older models.
Assistant Pro, Inc, based in Round Rock, Texas and Cochrane, Alberta is a technology company created to help golfers improve their game. The Golf Guru team includes the inventors of GPS for golf and the developers of several generations of cart-based GPS golf systems. For more information, visit http://www.gpsgolfguru.com or email info @ gpsgolfguru.com.
###