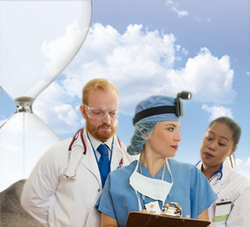 Diagnosing Generational Differences in Physician Engagement.
Charlotte, NC (PRWEB) October 29, 2008
The entry of Generation X physicians to healthcare represents a profound demographic shift for hospitals. Morehead, the human capital research firm, recently conducted a national study that reveals the different views of Gen X, Baby Boom and Traditionalist Generation physicians.
Morehead will host a complimentary webinar on Tuesday, Nov. 11 at 1 p.m. Eastern time titled "Diagnosing Generational Differences in Physician Engagement." David Rowlee, Ph.D., vice president of Physician Research and Brad Morton, vice president of Physician Surveys and Solutions will present Morehead's research findings, which provide insight into the varying views that physicians maintain toward key aspects of hospitals, including quality of care, hospital strategies, leadership performance, and how these perceptions combine to impact their loyalty.
Webinar attendees will walk away with an understanding of how generation membership significantly impacts the attitudes that physicians maintain toward hospital leadership, patient care and operational aspects of hospitals. Additionally, Rowlee and Morton will give guidance on how an individual hospital can assess the attitudinal differences of its physicians and develop systemic strategies to embrace all physicians, regardless of age. Rowlee and Morton will also provide insight into the drivers of physician loyalty and how building and sustaining loyalty among different generation groups directly drives hospital revenue.
To sign up for the webinar, visit http://moreheadassociates.com/events/contents_event79.html.
About Morehead:
Morehead delivers human capital Surveys, Metrics and Solutions that enable leaders to (1) target and focus human capital initiatives, (2) prioritize systemic change, (3) inform work unit interventions, and (4) align employees with business strategies. Morehead's clients include healthcare providers, financial institutions, government agencies, universities, service providers, and manufacturers. For more information, visit http://www.moreheadassociates.com.
Media Contact:
Wanda Craig
800.849.2292 x 5515
wcraig(at)moreheadassociates.com
This press release was distributed through eMediawire by Human Resources Marketer (HR Marketer: http://www.HRmarketer.com) on behalf of the company listed above.
###