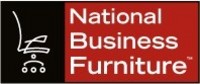 By uploading our catalog to the Ariba network, we're now able to service our customers in a much more personalized and efficient manner.
Milwaukee, WI (PRWEB) October 29, 2008
National Business Furniture (NBF) announced today that it has successfully completed the requirements for Ariba, Inc.'s (Nasdaq: ARBA), Ariba® Ready™ designation for online transactions with buyers. NBF has proven its integration abilities to the Ariba® Supplier Network™ (Ariba SN) and provides scalable, repeatable processes for transacting with, and providing content to, buyers using the Ariba® Buyer™ procurement solution.
By uploading the entire NBF catalog onto the Ariba network, NBF is making it easier for their customers to find and buy quality office furniture directly through the Ariba network. In addition to being on the Ariba network, NBF reaches its customers with a catalog, a direct-sales team and through its website, NBF.com.
"NBF has always been committed to providing its customers the best possible shopping experience when buying office furniture," NBF President Kent Anderson said. "By uploading our catalog to the Ariba network, we're now able to service our customers in a much more personalized and efficient manner."
About National Business Furniture
National Business Furniture was founded in 1975 as an office furniture catalog for corporate offices, small businesses and government agencies. Since then, NBF has expanded into the school, church and home office markets through three catalog brands, five websites and an experienced sales team.
In 2006, NBF was acquired by K+K America, LLC, the leading group of business-to-business mail order companies in North America.
For a complete selection of executive office suites and traditional office furniture such as desks, chairs, file cabinets, bookcases and reception furniture, or for a free catalog, go to NBF.com. Or visit any of the NBF family of brands including: OfficeFurniture.com, OfficeChairs.com, Alfax and Dallas Midwest.
About Ariba Ready
Ariba Ready is a special designation awarded to suppliers who have demonstrated the ability to effectively transact with and provide content to organizations using Ariba Buyer through Ariba Supplier Network (Ariba SN). This Ariba program helps suppliers communicate their capabilities by acting as a common standard for integration and enablement that all Ariba SN participants can understand and value. Suppliers can self-test their content and integration abilities through the Ariba Ready portal.
About Ariba, Inc.
Ariba, Inc. is the leading provider of spend management solutions to help companies realize rapid and sustainable bottom line results. Successful companies around the world in every industry use Ariba Spend Management software and services. Ariba can be contacted in the U.S. at 1.650.390.1000 or at http://www.ariba.com.
###