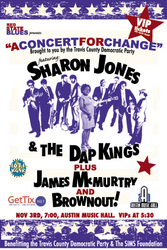 In the Live Music Capitol of the World, there is only one way to commemorate the beginning of a new political era: with a big party and lots of great music. I know Clifford (Antone) is smiling on from heaven
Austin, TX (PRWEB) October 30, 2008
In the heart of the reddest of the red states there is a grassroots movement hard at work to turn Texas blue. All that energy will have an outlet on Election Eve, spoken in the language Austinites know best: Music.
Sharon Jones and the Dap-Kings will be joined by Brownout and Austin music legend James McMurtry in an historic performance to ring a new era in politics; in the state George Bush calls home. The concert will be held at the newly renovated Austin Music Hall and benefits The Travis County Democratic Party and The SIMS Foundation.
During this one night event, local and national celebrities will rub elbows with grassroots activists and others energized by the election. "In the Live Music Capitol of the World, there is only one way to commemorate the beginning of a new political era: with a big party and lots of great music. I know Clifford (Antone) is smiling on from heaven," adds Kay Gourley, co-producer of the event. Antone's signature club was the venue for the first Red State Blues concert in 2004.
The concert will start at 7:30 p.m., doors open at 7 p.m. General Admission price is $32/ticket and can be purchased at http://www.gettix.net/concert/?event_id=2777.
There will be a special reception before the show with a performance by Paris 49 and special guest Chrysta Bell. The $82/person price of the pre-concert reception includes admission to the concert, appetizers and drink tickets.
###