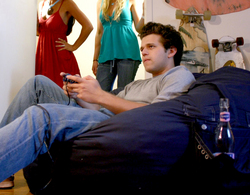 Brooklyn NY (Vocus) October 29, 2008
LoveSac, makers of alternative furniture and the GamerSac, are proud to team up with Destructoid.com to host the First Annual LoveSac NES Classic at Barcade in Brooklyn, NY on November 16th from 5-9 p.m.!
The LoveSac NES Classic will bring together gamers in the love of comfortable furniture and retro gaming by pitting players in series of speed runs of classic Nintendo games to see who can complete levels the fastest. Participants will have the chance to win prizes, including the Grand Prize – a fully loaded GamerSac and a bronzed NES Powerglove as a trophy.
Gamers will compete in titles such as Super Mario Bros. 3 and ExciteBike, or they can join the head-to-head Super Nintendo competition in side tourneys of Super Street Fighter II Turbo or Mario Kart. The LoveSac NES Classic will be a 21 and over event, and prospective gamers can register by sending an email with their name to LoveSacNESclassic @ gmail.com and the word "registration" in the subject line.
About LoveSac:
LoveSac has been leading the underground movement in alternative furniture for over 10 years now and is emerging as the leader in media room seating. LoveSac was started by Shawn D. Nelson all the way back in 1995 with the simple idea of making a radically huge bean bag, but without the messy beans. This "Sac" was so enormous that it could seat 5 comfortably, making it the greatest gaming, movie-watching, media room seat on the planet. Before long LoveSac grew into a small nation-wide retail chain and has expanded its product line to include a full line of extremely unique media room furniture including the newly famous Sactionals; washable, changeable, extremely modular furniture.
About Destructoid:
Destructoid is an independently-run publication, driven by our love of gaming and this industry's dire need of accountable, enthusiast press. The company began as a one-man prank to gain admission into the E3 press conference. By creating a critical blog and protesting "stuffy games journalism" at the event by showing up in a giant robot helmet, Destructoid was born. Today Destructoid reaches over a million readers worldwide, and has become one of the largest independent gaming communities online, with operations in the U.S., Canada, and the UK. Known for its piercing views on the gaming industry and memorable robot mascot, the three-time Webby-honoree Destructoid (or Dtoid for short) is the pulse of the hardcore gamer. Its unique and often irreverent editorial voice remains true to our humble beginnings, as Dtoid works to brings the news, the fun, and its shiny robot head to the world of videogames.
About Barcade:
Barcade is located at 388 Union Ave between Ainslie St. and Powers St. in Williamsburg, Brooklyn, and features over 25 vintage arcade games from the 1980's and a rotating selection of 25 American craft beers on tap for your enjoyment. Barcade runs on 100% wind power and just celebrated its fourth year in business.
###