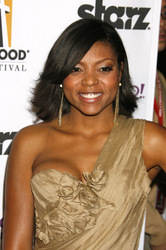 Hollywood, CA (PRWEB) October 29, 2008
Award-winning actress Taraji P. Henson is set to star in the upcoming thriller ''No More Bloodshed.'' The independent feature film about a paroled hit man determined to change his life and reclaim the son he's never known will be directed by Emmy winner Michael Ajakwe Jr., and was written by Ajakwe and Pascal Atuma for Pascal Atuma Productions (''My American Nurse'', ''Only in America'', ''Hurricane in the Rose Garden'').
Set in modern-day Los Angeles, the dramatic tale of sin and salvation follows the story of a freed convicted felon who vows never to go back to prison. After spending years behind bars and gaining a new perspective, he swears he's a different man. But in many ways, he hasn't finished doing his time.
Henson, who recently starred in ''Tyler Perry's The Family That Preys'' and alongside Brad Pitt in the upcoming Oscar contender ''The Curious Case of Benjamin Button,'' was recently named by ''Variety'' as one of ''10 Actors to Watch'' in its annual spotlight on emerging new talents. The announcement was made at the 12th Annual Hollywood Film Festival's Hollywood Awards. The award-winning actress will star as the female lead in ''No More Bloodshed,'' playing Beverly -- the ex-girlfriend of the ex-con with whom she shares a son.
Henson will be joined in the gritty street drama by TV and film stars Jason George (''Eli Stone'', ''Barbershop''), Mark Christopher Lawrence (''Chuck'', ''The Pursuit of Happyness''), and Tommy Ford (''Martin'', ''New York Undercover''). Grammy-winning R&B legend Deniece Williams will portray Henson's mother in the film. A search is ongoing for the male lead, with Emmy-winning casting director Robi Reed of Robi Reed & Associates heading up casting. Production on ''No More Bloodshed'' is scheduled to begin in March 2009 in Los Angeles.
Media Contact:
Ngozi Mba
MINC Media for Pascal Atuma Productions
323.544.1450
info @ mincmedia.com
###