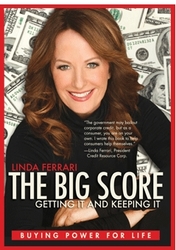 Newport Beach, CA (PRWEB) October 30, 2008
Noted credit score improvement expert and author, Linda Ferrari, announced today the release of a special report aimed at helping millions of consumers understand the current credit crisis and the important steps they can take toward credit score improvement during a hostile lending environment.
Ferrari's special report: "Save Your Credit, Save Your Life - 10 Steps to Protect Your Financial Future in a Hostile Credit Environment" is a Ten-Step Take Action Plan available for free download at http://www.lindaferrari.com.
"A whopping $700 billion in new debt to takeover the mortgages gone sour has dealt a hideous blow to American taxpayers and businesses," says Ferrari, president of Credit Resource Corp. and author of: The Big Score: Getting it and Keeping It - Buying Power for Life.
"Access to credit just got a lot more expensive for many to keep and nearly impossible to get. This proverbial double whammy finds us in an era of economic Darwinism in which American consumers face the necessity to adapt or perish," Ferrari continued. "Make no mistake, those who will prevail in the new economic paradigm will share a single common thread--excellent credit scores. This special report will help them do just that."
Ferrari's 10-Step Take Action Plan (TAP) provides a methodical approach aimed at delivering instant information for credit improvement, credit education and credit repair. Ferrari's 10 steps enable consumers to construct an action plan that will help them identify credit issues, establish a good mix of credit, strategically manage debt (mortgage debt, credit card debt and installment debt, i.e. car loans). Ferrari's special report on credit improvement also shows individuals how to begin debt negotiation, and how to stay on track with a credit improvement or credit repair plan.
"Great fortunes are made in times of great peril," Ferrari stated. "Like no other time in the last 80 years, those with great credit will have the opportunity to capitalize on opportunity for long-term success. I want every American to have the chance to succeed, and that's exactly what this report can help them do."
About Linda Ferrari:
Linda Ferrari is a leading nationwide expert in the credit education and scoring industry. Linda has dug into more than 14,000 credit reports providing in-depth solutions through coaching and consultation to thousands of consumers and mortgage professionals. In doing so, through education and credit repair, Linda has orchestrated higher credit scores and better financial opportunities and futures for individuals and families from all walks of life.
She has seen it all and she has fixed it all and her message is very clear:
"The Government may bail out corporate credit, but as a consumer, you are on your own. I wrote this book to help consumers help themselves, and believe me they need this information.
Not all credit advice is good! With years of experience in this business, I can tell you that most of the information you hear or read about credit improvement contains erroneous or blatantly false information. Credit awareness is monumentally important and credit scores are now a major deciding factor in the outcome of our financial futures. Whether you want to raise your credit scores from a 720 to a 780, or you need to recover from a severe financial crisis, when you need credit help, reliable information is critical.
Too many self-proclaimed credit and financial experts are now offering credit improvement tips, despite the fact that they have never repaired anyone's credit. This phenomenon should greatly concern consumers. You can't waste time going down a misguided path, led astray by the advice of someone who has hopped on the bandwagon because credit is now such a popular subject for the media to cover. I wrote this book to give individuals the RIGHT advice, the type of advice that will change their lives for better and for good."
Linda Ferrari is a regular guest on San Diego's 1700AM Biz Fit radio show, a frequent guest on Talking Dollars and Making Sense, and Vegas Investors Edge. She also provides expert credit advice at seminars and conferences, nationwide, for both the public and private sectors. Linda's broad depth of knowledge and ability to respond quickly enable her to respond quickly and effectively to a wide spectrum of credit concern. Linda's unique approach sheds light on many misconceptions about credit scoring, frequently with quick real-life remedies that can instantly make credit scores shoot up 50 to 100 points or more.
Contact:
(866)541-2500
info @ lindaferrari.com
###