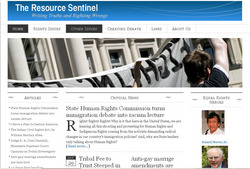 Testimony Time: A Positive Perspective on Homosexuality and Same Sex Marriage
Hopkins, MN (PRWEB) October 30, 2008
The Resource Sentinel, a human rights advocate group headed by Howard B. Hanson, has now made a new DVD available to purchase through their website. "Testimony Time: A Positive Perspective on Homosexuality and Same Sex Marriage," a Sunday Forum by Lowell Erdahl, Bishop Emeritus of the Evangelical Lutheran Church, relates the story of his personal journey of learning about and understanding the homosexual, gay, lesbian and transgender issues, especially equal rights for same sex couples in the US. Hanson, a member of the congregation and sole owner of The Resource Sentinel, produced the DVD.
Erdahl explains how his stance on homosexual rights has changed. He testifies to having moved from ignorance to affirmation by examining the Biblical texts that have historically been cited to condemn same-sex behavior. Suggesting that these texts fail to address committed same sex relationships based in love and faithfulness, Erdahl believes that such "consecrated unions" should be elevated to that of a marriage and that efforts to hinder them are "anti-love amendments."
"The First Amendment supposedly guarantees free speech, open debate, government accountability, and a well-informed electorate. But currently, too many important issues escape the full information flow and debate they deserve," points out Hanson, who cites political control in the media as one barrier. "Voters are denied their 'right to know.' Can there be intelligent voting, good lawmaking, and wise public policy when that happens?"
As part of its mission to attain equal rights for all US citizens, The Resource Sentinel is focusing on two particular groups: Indian citizens born on reservations and the homosexual community. The Resource Sentinel has examined the political control in the media and has resolved to bring these issues to light to overcome the types of media biases that have contributed to the alienation of these two groups.
"Key facts about very real constitutional, economic and social issues have been obscured by divisive platforms in the major parties," says Hanson, in regard to political corruption and the negative influences of media on society. "Meanwhile the media runs spectacles slanted toward political correctness and labeling."
To view an excerpt from the DVD, to order, or for more information, visit theresourcesentinel.com.
About Bishop Erdahl:
Lowell O. Erdahl currently serves as the Bishop Emeritus of the St. Paul Area Synod of the Evangelical Lutheran Church in America. Erdahl has written several books that address marriage, religion, media impact on society, and gay and lesbian unions. This most recent DVD release enters the political realm by advocating equal rights for same sex couples in the US.
About Howard B. Hanson and The Resource Sentinel:
After retiring in 2004, Hanson has committed himself to public service through The Resource Sentinel. Hanson became involved in politics in 1979 and found growing frustration with the political control in the media, corrupt politicians, and laws that infringed on equal rights. Hanson formed The Resource Sentinel and the Resource Party in 1994 to shine a light on examples of political bias in the media and to fight for laws that protect our founding documents and ensure equal rights for all.
###