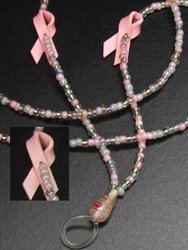 We designed the Pink Ribbon BooJee beaded lanyards to provide a way for women to express their support for the fight against breast cancer
Sarasota, FL (PRWEB) October 30, 2008
In honor of National Breast Cancer Awareness Month, Bonitas International, maker of BooJeeBeads unique office jewelry, has teamed up with OfficeMax to offer customers a functional and fashion forward way to support the fight against breast cancer. The Pink Ribbon BooJee lanyard, handcrafted with glass seed beads in shades of pink, rose and gray crystal, is on sale now in OfficeMax retail outlets throughout the country. A percentage of Bonitas International's proceeds from the sales of this specialty necklace, which also features a magnetic breakaway clasp and a clear pouch to hold an ID badge, will go to organizations dedicated to fighting breast cancer.
"We designed the Pink Ribbon BooJee beaded lanyards to provide a way for women to express their support for the fight against breast cancer," says Bonitas International co-founder Kimberly Martinez. "We are proud to partner with OfficeMax in this worthy cause by offering these beautiful one-of-a-kind ID badge holders to their customers."
Bonita International's mission is to provide women with affordable alternatives to the unflattering dangling shoestring ID-holders so prevalent in medical facilities, schools, companies and government offices around the world. Its line of BooJeeBeads brand fun and functional jewelry--including a variety of colorful beaded lanyards, badge reels, ID clips and eyeglass necklaces--is changing the way women think about dressing for work. The items are available at 4,000 retailers worldwide and through the company's Web site, http://www.BooJeeBeads.com.
About Bonitas International:
Bonitas International has been redefining workplace chic since 2003, when pediatric nurse Lisa Harrington and her sister-in-law Kimberly Martinez, a corporate executive, teamed up to create a unique line of colorful beaded office jewelry. Today, BooJeeBeads (http://www.BooJeeBeads.com) provides working women everywhere access to fun, functional and fashion-forward lanyards, badge reels, ID clips, eyeglass necklaces and eyeglass pins. The company, which has been featured in the Wall Street Journal, on entrepreneur.com and in print and broadcast media around the country, was recently chosen as a Stevie Awards for Women in Business finalist in the Most Innovative Company of the Year category.
For more information, visit http://www.bonitasinternational.com or call Contact: Karen Bryant, Bonitas International 941-548-1931; kbryant @ bonitasinternational.com
About OfficeMax:
OfficeMax Incorporated (NYSE: OMX) is a leader in both business-to- business office products solutions and retail office products. The OfficeMax mission is simple. We help our customers do their best work. The company provides office supplies and paper, in-store print and document services through OfficeMax ImPress®, technology products and solutions, and furniture to consumers and to large, medium and small businesses. OfficeMax customers are served by approximately 32,000 associates through direct sales, catalogs, e-commerce and nearly 1,000 stores. To find the nearest OfficeMax, call 1-877- OFFICEMAX. For more information, visit http://www.officemax.com/ .
# # #