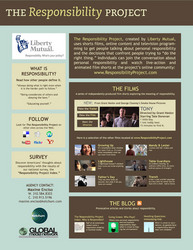 Venice, CA (PRWEB) October 30, 2008
A new independently produced film short written and directed by Academy Award® nominee Grant Heslov for The Responsibility Project demonstrates the power of working together to accomplish a single goal.
In "TONY," actor Tate Donovan gets help from an unlikely cast of characters to find his son's teddy bear left behind on a family trip. What starts as a lone journey becomes a treasure hunt for a small group of helpers - who have little in common - but who make it their personal responsibility to find the missing item.
"TONY" was produced by Smoke House Pictures, which is co-owned by Heslov and George Clooney. The film, which runs 13 minutes and two seconds, and its accompanying discussion guide, for those interested in sharing the film and sparking an in-person conversation in the classroom, home or community, can be found at http://www.ResponsibilityProject.com.
Grant Heslov is the producer and co-writer of the George Clooney helmed "Good Night, and Good Luck." He served as director and executive producer of the critically acclaimed series "Unscripted," and co-executive producer of "K Street," both for HBO. He also served as producer on the recently-released film "Leatherheads." Heslov is currently directing the feature film "The Men Who Stare at Goats." Along with producing, writing, and directing, Heslov has had a long career as an actor. Some of his feature credits include roles in "The Scorpion King," "Dante's Peak," "The Birdcage," "Congo," and "True Lies"
Tate Donovan is currently shooting the second season of the Emmy®-winning FX series "Damages," opposite Glenn Close and Rose Byrne. His feature credits include "Good Night, and Good Luck," directed by George Clooney, for which he shared a 2006 SAG Award nomination; "Shooter," '"Nancy Drew," "The Pacifier," "Swordfish," "Get Well Soon," "Murder at 1600," "The Only Thrill," "Ethan Frome," "Inside Monkey Zetterland," for which he earned an Independent Spirit Award nomination, "Love Potion #9," "Little Noises," "Memphis Belle" and "Clean and Sober." Donovan was a regular on the hit Fox series "The O.C." and NBC's "Trinity" and had guest-starring roles on series such as "Friends" and "Ally McBeal." Donovan recently performed in "Rabbit Hole" at the Geffen Theater.
The Responsibility Project, created by Liberty Mutual, uses entertainment content to create a forum for people to discuss personal acts of responsibility. Through short films, online content and television programming, The Responsibility Project is a catalyst for examining the decisions that confront people trying to "do the right thing."
Individuals can participate in online conversations about personal responsibility and also review live-action and animated film shorts on the project's online community, http://www.ResponsibilityProject.com.
###