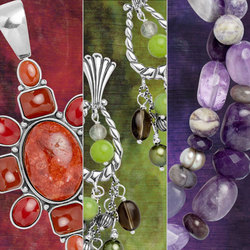 love and appreciation that has established her as an expert of the QVC business model… and it's her assiduousness that has earned the respect and trust from all who know her
Albuquerque, NM (Vocus) October 31, 2008
Relios Inc., designer and manufacturer of contemporary sterling silver jewelry is being honored with TV shopping giant QVC's prestigious vendor award – the "QStar". This is the third time Relios has won a QStar, and the first time the company has won in the category of "Merchandising Teamwork". QVC guest and Lead Relios Jewelry Designer Carolyn Pollack won the "Broadcasting Teamwork" QStar three years ago in 2005.
"Winning a QStar is like a network TV personality winning an Emmy", says company President Bill Pollack. "Not only is this a tremendous honor for Relios, but in particular for Carolyn, whose undeniable passion has helped launch Southwestern Jewelry to new heights of QVC success." Carolyn has been creating designer sterling jewelry for QVC and Relios for over 10 years.
The QStar for Merchandising Teamwork recognizes an on-air vendor's abilities to work closely with QVC to drive sales utilizing multichannel business strategies by:
? Helping to develop and execute synergistic strategies that drive new sales opportunities, increase customer confidence, and heighten awareness of shopping content across multiple channels
? Developing a high level of interplay between all channels to communicate one brand with a shared experience
? Consistently performing above and beyond operational requirements and meeting program deadlines
? Partnering with shared vision, enthusiasm, mutual cooperation, and responsibility
This year's 2008 QStar Awards booklet recognizes QVC guest Carolyn Pollack as a person who is "steadfast in her devotion to Relios and QVC… one who has a deep passion for Native American art and Southwestern jewelry". The narrative goes on to say that it's Carolyn's "love and appreciation that has established her as an expert of the QVC business model… and it's her assiduousness that has earned the respect and trust from all who know her".
"Each time as a guest for a QVC broadcast is another opportunity to work with the staff in different ways to bring customers into the QVC family", says Carolyn Pollack. "Whether it's coming up with new concepts for jewelry designs or developing ideas for product presentation, it's all about working together as a team."
The Merchandising Teamwork honor is among eight categories of QVC QStar awards. The others include: Customer Focus, Internet Teamwork, Broadcasting Teamwork, Most Innovative, Operation Excellence, Product Concept, and Rising Star. Past Relios QStar recognition includes a nomination for Operational Excellence in 2002, Winner of the QStar for Best Product Concept in 2004, and Winner of the Broadcasting Teamwork Award in 2005, and another nomination for the Broadcasting Teamwork award in 2007.
About QVC
QVC, a wholly owned subsidiary of Liberty Media Corporation attributed to the Liberty Interactive Group (Nasdaq: LINTA), is one of the largest multimedia retailers in the world, with annual revenue of more than $7 billion. QVC is committed to providing customers with thousands of the most innovative and contemporary beauty, fashion, jewelry and home products. Its programming is distributed to more than 160 million homes worldwide. With subsidiaries in the United Kingdom, Germany and Japan, West Chester, Pennsylvania-based QVC has shipped close to a billion packages in its 20-year history.
###