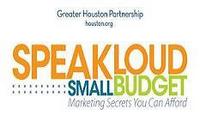 Houston, TX (PRWEB) October 31, 2008
Ephor Group's Garry Meier and Charles Bedard will speak on Small Budget Marketing Secrets You Can Afford at the Greater Houston Partnership's Fourth Annual Marketing Excellence Luncheon which is being held Friday, October 31, 2008 from 11:30 a.m. to 1:30 p.m at the InterContinental, located at 2222 West Loop South, Houston, TX.
Ephor Group will discuss marketing trends, strategies, tools, and techniques as well as cover marketing effectiveness best practices such as:
1. Cost-Effective Targeting and Profiling: Segmentation Rules!
2. "Pull Marketing" vs. "Push Marketing"
3. Effective Alternative Distribution Methodologies
4. Making Your Brand Known to Collapse the Buy Cycle
5. Matching Expenses to Revenue Bottom-line Impact!
For the past five years, Ephor Group has conducted quarterly research surveys with entrepreneurs and small to mid-sized businesses. These reports have been downloaded by thousands of small businesses every year. Ephor Group will share their findings on marketing effectiveness including cost-per-lead and new customer lead source close rates.
To view event details or register go to: http://www.houston.org/events/news/marketingexcellence/registration.
About Ephor Group (http://www.ephorgroup.com):
Ephor Group makes emerging enterprise investable thus creating wealth for founders and all stakeholders. Our approach is proven, pragmatic, and performance oriented. Our proven methodology, the Perform Business Process™ fills in the gaps where functional expertise and capital are constraining the business. Ephor has a deep track record for creating wealth for founders and all constituents.
Media Contact:
Charles Bedard, Ephor Group
1-800-379-9330
This press release was distributed through eMediawire by Human Resources Marketer (HR Marketer: http://www.HRmarketer.com) on behalf of the company listed above.
###