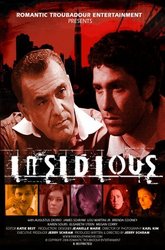 Ambiguous and mysterious, just like life.
New York, NY (PRWEB) October 31, 2008
Independent Film & Television Production/Distribution house Romantic Troubadour Entertainment has announced the DVD release of its demure crime drama, Insidious. The DVD is now available for purchase on Amazon, Indieflix and CreateSpace. DVD rentals on Netflix in early 2009.
Seeking a way to finance his indie film, aspiring young director Donny Rocconi (James Schram) takes a job as a debt collector -- and soon finds himself entangled in a web of extortion, blood money and murder. When help from a mob-connected friend Gigetto (Augustus Diorio) lands Donny on the wrong side of the Russian Mafia, he's forced to take matters into his own hands to defend the people he loves in this powerful and mysterious urban drama.
"Stuffed with enough plot to keep a daytime soap opera in emotional meltdowns, reversals of fortune and shocking revelations for months," said Maitland McDonagh on TVGuide.com/movies
"This movie will be a cult classic." "Ambiguous and mysterious, just like life." "Modest, and honest." "A thinking person's film." "Insidious is different." "Insidious rears against the formulaic process." "This film is not another moronic homogenized piece of lowest common denominator bull." -- Audience comments, Quad Cinema NYC
Writer/director Jerry Schram explains, "Insidious is a modest film, shot entirely in New York City, and financed personally for just under a million dollars." "Our intention from inception was to break the rules." "While some critics called it diminutive and others saw its admirable qualities, audiences found the story and performances intriguing, and thought provoking."
Mr. Schram's next film slated for production in 2009 is a supernatural action thriller.
Insidious, starring Augustus Diorio, James Schram, Lou Martini Jr., Brenda Cooney, Karen Sours, Megan Corry, and Elisabeth Steen opened May 23, 2008 at the Quad Cinema, in NYC. Insidious was edited by Katie Best, cinematography by Karl Kim, with Kamil Dobrowolski supervising post-production.
Theatrical/DVD Production/Distribution, Romantic Troubadour Entertainment. Digital rights managed by Cinetic.
Official Website http://insidiousthemovie.com
Email: info @ romantictroubadour.com
Warning: "Insidious" contains violence, nudity and adult language.
###