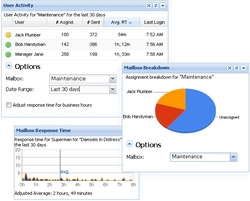 Email analytics widgets are a revolutionary addition to small business email management
Eugene, OR (PRWEB) October 31, 2008
Palo Alto Software, Inc. today announced the release of an Email Analytics feature pack for Email Center Pro. The hosted service, billed as the most intelligent way to manage collaborative email, has also expanded its Dashboard to incorporate the dynamic positioning of the analytics. The Dashboard now offers up to a dozen table and chart widgets that give you a visual update on the current status of your email.
A sampling of the analytics offerings:

Mailbox Traffic Distribution: Tracks things such as whether or not more email is received on Mondays or Wednesdays or if more email is sent in the morning or afternoon. Widget shows email flow by time of day, day of the week or day of the month. Users can also select a date range.
Mailbox Response Time: Tracks the time it takes to respond to email messages. Will display data for either a specific user or mailbox over a selected date range.
Recent Actions: Shows how mail is actually processed as well as all current activity. Widget also provides links so the user can jump to the full conversation.
Users Online: Displays which users are online, including those who are active (labeled green) and those who are idle (labeled yellow).
Mailbox Breakdown: This widget displays as a pie chart that shows the number of messages assigned or unassigned by mailbox for each user.
User Activity: Tracks the number of conversations assigned and sent as well as the average response time per user. Users can specify mailbox and date range, too.
Saved Searches: Widget displays user's favorite search specifications in a handy, accessible location. Clicking on the search takes the user from the widget to a list of matching conversations.
In addition to the above, the Dashboard can also be customized to display Recent Activity across accounts by moving widgets around with a simple click-and-drag interface.
"Email analytics widgets are a revolutionary addition to small business email management," said Palo Alto Software CEO Sabrina Parsons. "Small businesses now get a view into their customer interactions usually only available at the enterprise level."
Email Center Pro 2.0 transparently handles all of your business and customer email. Users can always see how many messages are in each inbox, how many messages have been responded to and who responded. Email Center Pro 2.0 reliably archives all messages, providing a history of every email that has gone through the service. Email Center Pro 2.0 is password-protected and encrypted to ensure security and uses the Amazon Web Services infrastructure for the same level of reliability as the Amazon.com store.
Email Center Pro 2.0 information and pricing is available at http://www.emailcenterpro.com.
For more about Email Center Pro, go to http://pitch.pe/979
About Palo Alto Software, Inc.:
Palo Alto Software, Inc., founded in 1988, develops, publishes and markets software products for use with personal computers. BUSINESS PLAN PRO is the best selling business-planning software in the U.S. retail market, according to NPD Intelect (formerly PC Data). Palo Alto Software's other products include MARKETING PLAN PRO powered by Duct Tape Marketing, and EMAIL CENTER PRO. Palo Alto Software's product line offers "know how" solutions that have made it the market leader in its category. Palo Alto Software's award-winning site, http://www.bplans.com, continues to be one of the highest trafficked sites in the small-business arena, offering numerous business-planning resources. Palo Alto Software is a privately-owned corporation based in Eugene, Oregon. More information about Palo Alto Software products is available on the company website, http://www.paloalto.com.
http://www.businessingeneral.com/ | http://www.deadsimplesoftware.com/
###