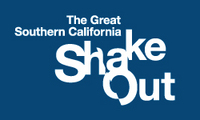 Participating in efforts like The Great Southern California ShakeOut drill, not only helps our schools lead the nation in emergency readiness initiatives but also bolsters our education system by delivering the message that preparedness, knowledge and skills can save lives, prevent damage and empower communities
Los Angeles, CA (PRWEB) October 31, 2008
State Superintendent of Public Instruction Jack O'Connell; U.S. Geological Survey Chief Scientist, Dr. Lucy Jones; Los Angeles County Office of Education Superintendent, Dr. Darline Robles; and Los Angeles Unified School District Superintendent, Admiral David Brewer III, joined representatives of Team SAFE-T and the Southern California Earthquake Center (SCEC) at Eagle Rock High School in Los Angeles to celebrate the participation of more than 185 school districts (4,000+ schools) and more than 480 additional public and private schools (totaling more than 3.68 million school participants) in The Great Southern California ShakeOut taking place on Nov. 13, and to teach young students how to be prepared when disaster strikes.
At 10 a.m. on Nov. 13, over 5 million people total, in homes, schools, businesses, government offices, and public areas throughout Southern California's eight counties, will DROP to the ground, take COVER under a table or desk, and HOLD ON to participate in The Great Southern California ShakeOut - the largest earthquake drill in United States history.
"Participating in efforts like The Great Southern California ShakeOut drill, not only helps our schools lead the nation in emergency readiness initiatives but also bolsters our education system by delivering the message that preparedness, knowledge and skills can save lives, prevent damage and empower communities," said Jack O'Connell, State Superintendent of Public Instruction.
In preparation for the massive ShakeOut, students at Eagle Rock High School experienced a simulated shaking inside "The Quake Cottage," followed by a classroom presentation where Team SAFE-T and SCEC representatives taught the proper way to Drop, Cover and Hold On, and shared general preparedness information using educational materials provided free of charge for schools though http://www.teamsafe-t.org.
With only two more weeks to go before the Great ShakeOut, all Southern Californian schools, families and businesses are being urged to participate. Drill instructions, visuals, interactive games, participant statistics, and registration forms are available at http://www.ShakeOut.org, where more than four million participants have registered to date.
To help Southern Californians prepare for the ShakeOut drill, a fun and informative game called "Beat the Quake" is also available at http://www.ShakeOut.org and at http://www.dropcoverholdon.org. Players secure objects in a virtual living room before a simulated earthquake shakes and breaks those items not secured.
"'Beat the Quake' allows us to engage a large portion of the population in a fun, interactive way so that they are prepared when the Big One hits. It also makes for a great teaching tool for kids and families," said Dr. Lucy Jones, of the U.S. Geological Survey.
"Preparing for a major earthquake is a community effort. While the ShakeOut already has drawn more than 4.7 million participants, we're challenging all of Southern California to recruit more neighbors, colleagues, friends and classmates," said Mark Benthien, Director of Communication, Education and Outreach at the Southern California Earthquake Center at USC.
"We have witnessed the widespread repercussions of both man-made and natural disasters, and we encourage every classroom to participate in the ShakeOut Drill," said Hillary Mendelsohn, Executive Director, Team SAFE-T. "Our free classroom and family materials, which are available in multiple languages, will help make participation easy and ensure that California's students and families are prepared to respond to earthquakes and other emergencies."
About the Great Southern California ShakeOut:
With a goal of at least five million participants, the ShakeOut Drill will be the largest in U.S. history. To participate, go to ShakeOut.org/register and pledge your family, school, business, or organization's participation in the drill. Registered participants will receive information on how to plan their drill, connect with other participants, and encourage a dialogue with others about earthquake preparedness. There are many ways to take part, but at the least participants should "Drop, Cover, and Hold On" at 10 a.m. on Nov. 13. It all begins with registering, which is free and open to everyone. For more information, visit http://www.ShakeOut.org.
###