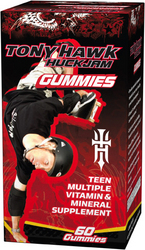 Ronkonkoma, NY (PRWEB) November 12, 2008
Whether he's busy shredding the halfpipe, working on his latest video game, touring the country with his Boom Boom HuckJam or making one of his numerous television appearances, skateboarding legend Tony Hawk is first and foremost an athlete. And athletes know the importance of good nutrition. However, most of Tony's fans are boys ages 8 to 16 - not the most nutritionally conscious group around. So, Tony has joined forces with NBTY, Inc., a leading manufacturer of nutritional supplements and children's vitamins, and created the Tony Hawk HuckJam brand of vitamins. These chewy "gummy" vitamins, shaped like miniature skateboard decks, skateboard wheels and Tony's signature hawk skull, provide a good source of 11 vitamins and minerals, including Vitamin C, which bolsters the immune system*, and Vitamin B-12, a major factor in energy metabolism*.
To help make a big splash for the release of Tony Hawk HuckJam Gummies, NBTY, Inc. rolled out the vitamins nationally. There are two sizes available - a 60-count bottle and a 180-count bottle. Both will contain three great-tasting flavors of gummies: orange, cherry and grape. So whether you're a parent looking to give your teen a better handle on nutrition, or a seasoned boarder ready to hit the skatepark, Tony Hawk HuckJam Gummies are a great source of the vitamins and minerals that help keep a body coming back for more. Send an email to info@sundownnutrition.com to find out more about Tony Hawk HuckJam Gummies.
About Tony Hawk Inc.
Tony Hawk Inc. is a world leader in its field with the unprecedented ability to bring alternative sports and their unique lifestyle to the masses while maintaining an indispensable edge of authenticity with the market's hard-core, trendsetting audience. Founded by Tony Hawk in 1998 and based in Vista, CA, the company is organized into five segments: Merchandising, Events, Endorsements, Film and Digital Media. These lifestyle sports include skateboarding, BMX, Motocross, surfing and snowboarding. Consumer goods bearing the Tony Hawk brand have dominated several markets, including interactive games, skateboard hard goods, lifestyle apparel, toys, publications and more.
About NBTY
NBTY is a leading global vertically integrated manufacturer, marketer and distributor of a broad line of high-quality, value-priced nutritional supplements in the United States and throughout the world. Under a number of NBTY and third party brands, the Company offers over 22,000 products, including products marketed by the Company's Nature's Bounty®, Vitamin World®, Puritan's Pride®, Holland & Barrett®, Rexall®, Sundown®, MET-Rx®, Worldwide Sport Nutrition®, American Health®, GNC (UK)®, DeTuinen®, LeNaturiste™, SISU®, Solgar(R), Good 'n' Natural®, Home Health™ and Ester-C® brands.

These statements have not been evaluated by the Food and Drug Administration. This product is not intended to diagnose, treat, cure or prevent any disease.
###