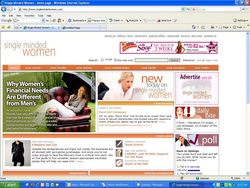 The picture painted about single women is that we're either like Carrie Bradshaw or we're spinsters, leading these bleak lives
Paradise Valley, AZ (PRWEB) November 3, 2008
Fresh out of beta testing since March 2008, SingleMindedWomen.com (SMW), an online web community devoted exclusively to the needs of fabulously unattached women, has helped to dispel the spinster stereotype, welcoming 25,000 single gal visitors per month.
The site provides a place to support and honor a woman's single lifestyle choice within a trusted community where women share their views, find inspirational ideas and discover ways to enhance "single life" with topics ranging from travel, health, careers, relationships, finances, personal style and single parenting.
Founded by 20-year publishing veteran, Allison O'Connor, who had the same experiences many single women face today--cracking the "old boys" network at work, buying a house on her own, traveling solo both for fun and business, investing for her own retirement, and even having a baby as a single woman, the site seeks to inform as well as entertain, single women like her, and younger ones learning as they go.
"The picture painted about single women is that we're either like Carrie Bradshaw or we're spinsters, leading these bleak lives," says O'Connor. "We're not spinsters; we're 'singleistas.' The truth is there is an estimated 54 million single women living in the U.S today. These women are empowered, both emotionally and financially. I wanted to create a portal so that this demographic can feel its needs are being served."
Offering different channels, ranging from career to style along with a fully-developed community feature, SMW boasts a team of respected editors and advisors including John Gray and Dr. Keith Ablow.

Josie Brown, editor of the Relationships channel, is also a feature writer whose articles on relationships and couples communication have appeared in Redbook, Complete Woman and Yahoo!.com's relationship network. She is also the editor of John Gray's Mars Venus Advice, Dr. Gray's internationally syndicated question-and-answer columns; and co-author, along with her husband, Martin, of Marriage Confidential: 102 Honest Answers to the Questions Every Husband Wants to Ask, and Every Wife Needs to Know [Signal Press].
Josie's husband Martin Brown edits the Money and Health channels. Brown is a former CBS Radio Network news journalist whose articles on relationships have appeared in Playboy as affluentmale.com, askmen.com and AOL Women's Network.
Business journalist Paula Santonocito edits the Careers channel and covers a wide range of employment issues. Santonocito is the author of nearly 1,000 articles that are featured in many global and domestic publications.
For single parents who need ideas of fun things to do with kids or other parenting issues visit Melissa Chapman, editor of the Single Moms channel. Chapman a New York City writer, editor and columnist has over ten years experience writing, editing and researching articles on parenting and pop culture. She also writes "Kids in the City," a weekly column for The Staten Island Advance and is a contributing blogger at NYC Moms and iVillage.
For the fashion-forward, Erin Donnelly hosts the Style channel. A former senior editor for Sheckys.com, Erin wrote and edited the annual Beauty Book, a guide to New York City's premier spas and salons and top beauty products. Erin has also written for WWD Scoop, Bust, Tango, Rave*SQ, Upscale and Red Nightlife.
Food editor Fabiana Santana is a freelance food writer, editor, and recipe tester & developer based in New York City. She is a graduate of the French Culinary Institute and Culinary Technique program and has worked as a writer and recipe taster for Family Circle, Profile Magazine, Shecky's, Julib.com and Time Out NY.
Want some dish on your favorite celebrity? Nikki Haskell, socialite, hostess, and founder of Balanced Health Products, will soon launch her weekly column, "Around Town and Then Some," which will chronicle her jet-setting single gal lifestyle.
In addition, SMW recently introduced a new community site, a special channel and e-newsletter dedicated to Single Moms. September 15 also marked the debut of SingleMindedWomen.com talk radio, where guests like authors and experts, John Gray and Dr. Keith Ablow will talk to listeners about issues important to single women.
To learn more about SMW, please visit http://www.singlemindedwomen.com
Contact: Ann-Marie Nieves
(914) 461-4360
am @ getredpr.com
###