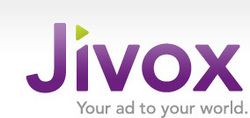 Jivox allows me to target my advertising dollars more precisely than any other marketing tool I've previously employed, ensuring that my ads reach people in areas where I can place them for jobs
San Mateo, California (PRWEB) November 3, 2008
Jivox, the online video advertising service that helps small and medium-size businesses reach local customers, today announced that the San Mateo, California branch of Express Employment Professionals has been named the Jivox Advertiser of the Month. Steve Parker, the owner of a regional branch of the fifth largest staffing firm in the United States, is being recognized for his use of the Jivox online video advertising platform for building brand awareness in a precise geographical area.
Express Employment Professionals, an Oklahoma City, Oklahoma-headquartered organization that has helped people find jobs and businesses find people and human resource services for 25 years, has more than 600 franchised locations in the United States, Canada, South Africa and Australia. Each Express office is locally owned and operated and, while backed by the expertise and support of an international headquarters, is responsible for marketing in its immediate community.
Steve Parker had tried a range of different marketing tactics, including running print ads in local newspapers, doing email campaigns and hosting events to promote the company. Parker found that it took about four to six "touch points" to attract and retain job candidates as well as recruiters, so he was interested in adding an additional marketing tool to drive these impressions. While he knew video advertising could deliver the additional marketing impact he needed, the costs associated with video ad creation and distribution had put this approach out of reach for his small business.
Attracted by the affordability and targeting capabilities of Jivox's approach to online video advertising, Parker decided to try the Jivox platform. He loaded pre-existing video advertising content secured from the Express Employment Professionals headquarters into the Jivox's easy to use ad creative tool and then used the tool to add custom contact information about his San Mateo branch. The ad was then distributed via the Jivox Publisher Network to a precisely geo-targeted audience that encompassed the coverage area of his office, an area approximately 20 miles by 15 miles on the San Francisco peninsula reaching from South San Francisco to Menlo Park, California.
"Jivox allows me to target my advertising dollars more precisely than any other marketing tool I've previously employed, ensuring that my ads reach people in areas where I can place them for jobs," said Parker. "Jivox distributes my ads on premium publisher sites, leveling the playing field and helping me build brand awareness for Express Employment Professionals against the other major staffing firms that have a big presence in the San Francisco Bay Area."
About Jivox
Jivox helps small businesses reach customers with online video advertising. Jivox provides advertisers with an online, self-service tool to create high-impact video ads using stock footage, images, music or their existing video assets. Jivox ensures high-quality placement of customer ads through the Jivox Publisher Network, a locally focused network of premium publishers that includes hundreds of local TV and radio stations, newspapers, weather and other specialty websites, and offers geographic ad targeting at the city level as well as demographic and contextual targeting. Jivox is a privately held company based in San Mateo, Calif. For more information about Jivox, please visit http://www.jivox.com.
# # #